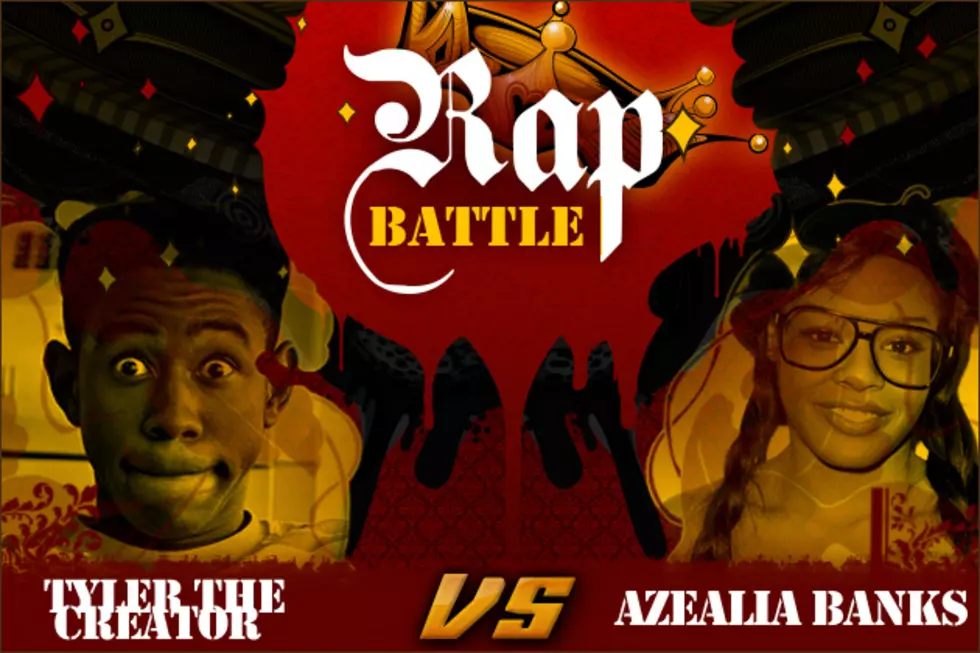 Tyler the Creator vs. Azealia Banks – Rap Battle
TheDrop.fm
Big Sean's 'Switch Up,' which took 31 percent of the vote, just couldn't compete with Tyler's 'Slater,' which came out with a whopping 69 percent.
'Slater' put Tyler back in the studio with his Odd Future brother Frank Ocean and supposedly includes some guitar expertise from rocker Dave Matthews. The song is the second single off Tyler's latest album, 'Wolf,' which released earlier this week. "Guess I win, checks started cashing in / I stopped rapping and started asking, 'Where my f—ing passion is?' / Probably where that f—– went (Who?), Tyler talking father problems / Shocky s— he spit to popping topics in a gossip column," he delivers on this track, which talks about his road to hip-hop success.
Azealia Banks is Tyler's next opponent. Known for her sassy personality and ability to start beef with just about anyone, Banks doesn't hold back her fiery spirit on 'Yung Rapunxel,' off her upcoming debut LP, 'Broke With Expensive Taste,' due out this year. The trippy music video for the track just adds to her eccentric and strong personality.
"Stay true to this s--- / Mackin' moves in this bitch, whitey hoot for this sis / If these n----s is rich, if these n----s insist, I'ma dig 'em and dip, take a whiff of this mist / I'm used to this chip / Spit ya fluidest, bitch n----, you could get bent," she boldly spits.
Will Tyler's 'Slater' be able to hold on till next week to become the second rapper to enter the Rap Battle Hall of Fame? Or will Banks' 'Yung Rapunxel' take the title away from him? Vote for your favorite track in the poll below. Remember you can vote once per hour until the poll closes on Thurs., Apr. 25, at 10 a.m. ET.
Listen to Tyler the Creator's 'Slater'
Listen to Azealia Banks' 'Yung Rapunxel'
Rules of Rap Battle
Two hip-hop artists compete against each other each week. The triumphant artist goes on to compete in the next Rap Battle. If an artist wins four straight Rap Battles, the song will be honored as immortal in TheDrop.fm Rap Battle Hall of Fame.