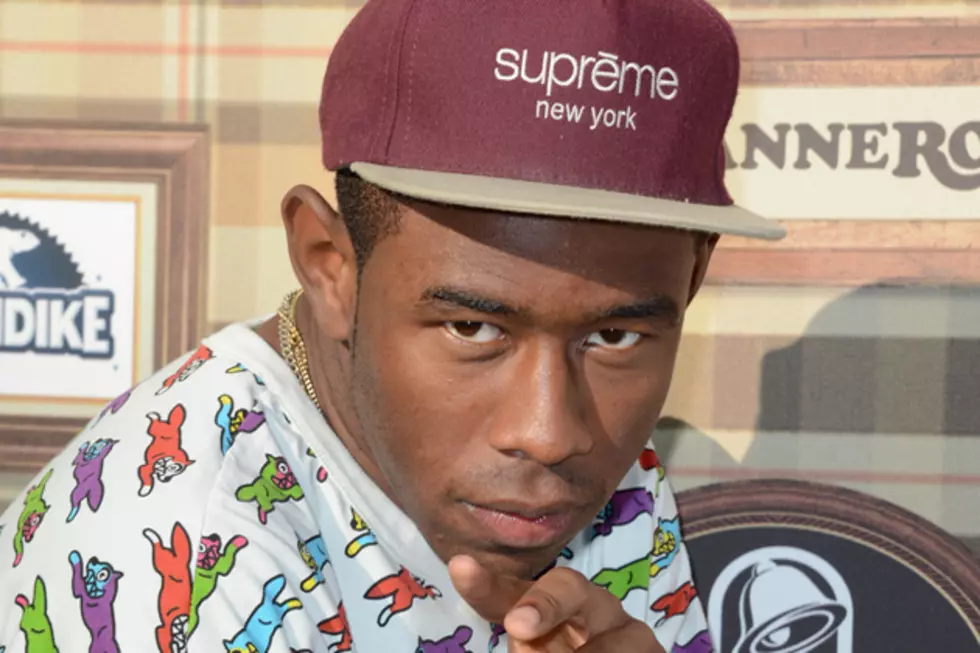 Tyler the Creator's Mountain Dew Ads Pulled for 'Racist' Content
Frazer Harrison, Getty Images
Tyler the Creator is no stranger to controversy. Now, the Odd Future frontman's zany ways may cost him his Mountain Dew endorsement as his ads were pulled by the soda company for being "racist."
MTV News reports that Mountain Dew yanked the ads after controversy erupted from critics, including writer Dr. Boyce Watkins who called the visuals "Arguably the Most Racist Commercial in History."
The series of ads directed by Tyler show a fictional plot line of a goat (voiced by the rapper) who beats up a waitress and is arrested for "DewUI" and placed in a police lineup.
"Of course, in the world of Mountain Dew, every single suspect is black. Not just regular black people, but the kinds of ratchety negroes you might find in the middle of any hip-hop minstrel show," Watkins wrote. "Mountain Dew has set a new low for corporate racism. Their decision to lean on well-known racial stereotypes is beyond disgusting. This doesn't even include the fact that the company has put black men on par with animals."
Mountain Dew has since removed the ads, although some can be found on YouTube. "We apologize for this video and take full responsibility. We have removed it from all Mountain Dew channels and Tyler is removing it from his channels as well," Pepsi, Mountain Dew's parent company, said in a statement to MTV News.
Watch Tyler the Creator's First Mountain Dew Ad
Watch Tyler the Creator's Second Mountain Dew Ad