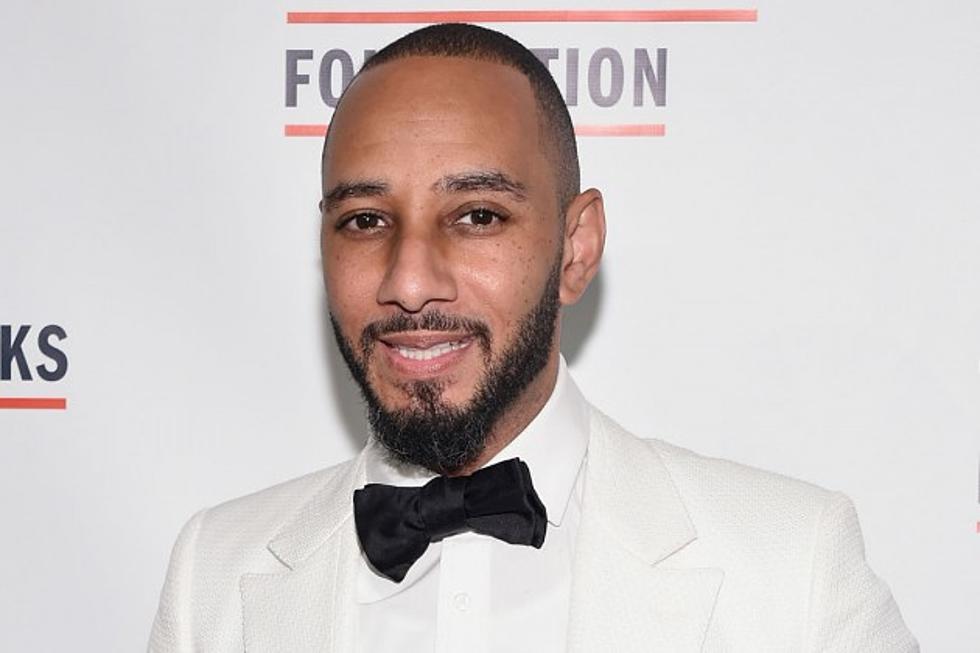 25 Best Swizz Beatz Songs
Andrew H. Walker, Getty Images
When you think of the "top five dead or alive" producers in the game, Swizz Beatz surely makes the list. The veteran studio maverick has spent the last two decades crafting chart-topping hits for some of your favorite rappers and R&B singers.
Today (Sept. 13), Swizz Beatz (born Kasseem Dean) is celebrating his 37th birthday. The Bronx, N.Y. native has accomplished so much in his indelible music career. Since producing his first beat in 1998, at the age of 17, his production has evolved. As the Ruff Ryders' in-house sonic architect, Swizz has produced sons for the label's superstar roster including DMX, Eve, the LOX, Jadakiss and others.
His reluctance to adopt samples and affinity for incorporating live instruments to construct classic hip-hop sounds makes Swizz a standout producer. He's flexed his production chops on the compilation album Ruff Ryder's Vol. 1, DMX's debut album It's Dark And Hell Is Hot and Eve's debut, Let There Be Eve...Ruff Ryders' First Lady, among others.
Not only is Swizz the CEO of Full Service Records, he's also a United Nation's Music Ambassador for World Peace and one hell of a painter. Overall, the self-proclaimed "Mr. Showtime" is one of the best producers of all time.
So in honor of the hitmaker's 37th birthday, we decided to take a look down memory lane with 25 Best Swizz Beatz Songs. It's showtime!
25

When you are married to Swizz Beatz his musical genius is sure to rub off on you. Alicia Keys was following her husband's lead when she abandoned her usual slow, piano ballads for a more upbeat flow on the 2013 single "New Day." Keys' new musical direction truly had Swizzy written all over it with it's percussion and base heavy beat. While it did not chart well, it did show Keys and Swizzy's fans the potential the Deans have when they get in the studio together.

24

"Now That You Got It"

Gwen Stefani Feat. Damian "Jr. Gong" Marley

Transcending genre's is not a problem for Swizzy. He proved he could deliver a party-anthem built for rock-stars with Gwen Stefani's 2009 "Now That You Got It." Falling in line with the reggae-infusions initiated by No Doubt, Swizz's production blended sounds of hip-hop and reggae and staccato piano keys. Although the song received mixed reviews, it was a clear example of Swizzy's ability to integrate several sounds to cater to the most diverse artists.

23

After her critically acclaimed solo debut, Beyonce returned with her sophomore effort B'Day in 2006. Proving that he can transcend genre's and move with ease from pop, to rap, to R&B and dancehall, Swizzy produced the party-anthem "Get Me Bodied," Bey's seventh and final single off the album. While the song didn't chart as well as other singles, it received heavy radio and club rotation on account of its dance-invoking lyrics, the redundancy of Swizzy's "heys," and a series of drum and bass-heavy loops.

22

"Million Dollar Bill"

Whitney Houston

Whitney Houston was set on returning to the limelight in 2009. After seeing Alicia Keys perform at one Clive Davis' events she teamed up with Keys and Swizz Beatz on "Million Dollar Bill." Determined to top the charts, Houston went with a more uptempo urban beat as oppose to traditional old-school R&B sound fans were used to hearing from her. Teaming up with the Deans seemed to work as it was dubbed Houston's "comeback" single. Featured on her final album I Look To You, "Million Dollar Bill," would be one of the last singles released before Houston's untimely death in 2012.

21

"It's Me Bitches"

Swizz Beatz

He's known for constructing hits for some of the biggest names in music, but Mr. Showtime is also a an artist in his own right. In 2007 he decided to take the solo route and dared to release his own album, One Man Band Man. He led the album with the fun single, "It's Me Bitches." The beat, which became an instant dance club favorite, happened to come one day while Swizz was at home and kicking back with a cocktail. ""When I did it, I was just in my vibe. I was drinking a little bit, celebrating...and I was just like, 'It's me, bitches.' I was just having fun," he revealed to MTV.

20

"Check On It"

Beyonce Feat. Slim Thug and Bun B

There's nothing like an H-Town reunion, especially when Beyonce, Slim Thug and Bun B get together on one track. But back in 2005, Swizz made it happen thanks to his place on the production team for "Check On It." The song was originally supposed to be on the Pink Panther soundtrack, but a change of plans landed it on the Destiny' Child #1's album. Nevertheless the bass-heavy dance track was well received across the globe.

19

There's no question that Swizz Beatz knows how to create music you want to turn up to. But what happens when Mr. Showtime teams up with with the fire-spitting lyrical assassin Busta Rhymes? The 2005 hit "Touch It." From the time it was released as the first official single off The Big Bang, the song began charting in both the U.S. and the UK. The single was such a hit it inspired other musicians to get in on the party in a series of remixed versions featuring verses from Lloyd Banks, Missy Elliot, Mary J. Blige, Papoose and DMX among others.

18

"Love is Blind"

Eve Feat. Faith Evans

When it was time for Ruff Ryder's first lady to release her first solo album she relied on the Mr. Dean to insure her a platinum plaque. Swizzy produced 14 out of 18 tracks on Eve's Let There Be Eve...Ruff Ryders' First Lady debut with "Love is Blind" as one of the standout tracks. While the song, which details her best friend's abusive relationship, was not her most successful single, it featured an empowering message that women can hold on to.

17

Who wasn't ready to "get it poppin" back in 2009 when Remy Ma teamed up with Swizz Beatz for the club banger "Whuteva?" from her debut album, There's Something About Remy. It was like the best of the Bronx, when Swizz and Remy invited you to have a good time by putting "your right hand up, then your left hand up." Not only did the song do well in the clubs it also became a street anthem.

16

Whenever DMX and Swizz Beatz collaborate you know it's going to be epic. "Get It on the Floor," is a high-powered track that has the sonic familiarity of Remy Ma's "Whuteva." Swizzy and Darkman X challenged even the worst dancers to get up out of their seats and have a good time.

15

"The Best of Me"

Mya Feat. Jadakiss

In the early 2000, R&B singer Mya had a hit in her hands with the ballad "The Best of Me." On the song, Mya details the irresistible urge to spend the night with a guy who she knows is not good of her. The uptempo track had a great balance of traditional R&B flare but thanks to Jada's raspy touch it also provided a hip-hop element that was unique to Swizzy's sonic architecture.

14

"I Can Transform Ya"

Chris Brown Feat. Lil Wayne & Swizz Beatz

Being that he helped transform many of the music industry elites careers, Swizz Beatz had no problems assisting Chris Brown to make his way back to the top in 2009. Following his infamous domestic dispute with Rihanna, Breezy faced backlash from his supporters. He was down and needed to refocused his energy. After he produced " I Can Transform Ya," Swizzy also offered the pop star sound advice. "I told him, 'Listen, man, just stay focused on your music They gonna throw shots at you. Time heals everything,'" Swizz told MTV in 2009.

13

"Roman's Revenge"

Nicki Minaj Feat. Eminem

Swizz Beatz has a pattern of producing classics, specifically on debut albums. Nicki Minaj was blessed with Swizzy's creativity on Pink Friday's "Roman's Revenge" featuring Eminem. The song was amongst several standout tracks on the album as the high-energy "spastastic" snares catered to Nicki and Em and their respective alter-ego's Roman Zolanski and Slim Shady with perfection.

12

"Ruff Ryders' Anthem" was the ground-breaking introduction of a then 17-year-old Swizz Beatz who produced this for up-and-coming Yonkers rhymer DMX. The chemistry between X and Swizz was uncanny as rap connoisseurs from Y.O. to L.A. got a sample of "how Ruff Ryder's roll." The track would go down as a classic and become one of the greatest songs in hip-hop.

11

"Money, Cash, Hoes"

Jay Z Feat. DMX

In the late 90's, Swizz was still just getting his feet wet in the game. But given his signature high-energy sound, many rappers turned to Swizz for the party anthems they craved. Following his debut with DMX, that same year Mr. One Man Band created "Money, Cash, Hoes," for Jay Z. Swizzy opened about the production process, which included Jay and X in two separate studio sessions. "The hook was Jay's idea but the concept of following the beat was my thing. I played him the joint and he was like, 'Oh, that's crazy,'" Swizzy revealed to Complex.  "I'm trying to figure out what to do with it. I told him to just follow the keys. He told me, 'I want to put DMX on this and I was like, 'Oh s---, it's outta here. Let's go!'"

10

"Drink N' My 2 Step"

Cassidy Feat. Swizz Beatz

Swizzy did it again! After a life threatening car crash and a bout of amnesia Cassidy took a hiatus from music. But when he was ready to return to the forefront of hip-hop he knew Swizzy was the one to deliver his next hit, "My Drink n My 2 Step." The song served as the lead single on Cassidy's 2997 album, B.A.R.S. The Barry Adrian Reese Story. The song boasts a creative use of effects with Swizzy and Casssidy's vocals tweaked by Auto-Tune.

9

Artists not only relied on Swizz Beatz to jump-start their careers, but they also looked to him when they wanted to return to the charts. After in-trusting Swizzy to produce her debut album, Eve reunited with the producer extraordinaire in 2007. The two long-time collaborators game back harder than ever making "Tambourine" her first charting single in more than four years.

8

Repurposing Jay Z's didn't sit well with T.I., as he wasn't sure if Hov would appreciate the gesture. But in the end it was all for the best. "[Swizz Beatz] was like, 'Man, listen. Let me deal with Jay. You just record the song.' So I went on and did the song and it was one of my biggest hits up until that point," T.I. told XXL. Using a sample of Jay Z's "What More Can I Say," Swizz helped revitalize Tip's career with "Bring Em Out," the first single from his 2003 album Urban Legend. The hit which featured a loop of Hov saying "Bring em out, it's hard to yell when the barrel's in ya mouth," became T.I.'s first top 10 single on the Billboard Hot 100 Songs chart. In addition, to the single the album on a whole helped earn T.I. the crown as King of the South.

7

"Banned From T.V."

N.O.R.E. Feat. Cam'ron, Jadakiss, Styles P, Big Pun & Nature

Amongst his early works, N.O.R.E.'s "Banned From T.V." radiated with the same robust sound Swizz delivered on "Ruff Ryder's Anthem." It was an anthem within it self catering to East Coast hip-hop as it featured verses from legends Big Pun, Styles P, Jadakiss and Cam'ron. In addition to winning over hip-hop heads, Swizzy also delighted music industry insiders with his genius sampling of German composer Richard Strauss' "Also Sprach Zarathustra (Thus Spoke Zarathustra)."

6

"Hotel"

Cassidy Feat. R. Kelly

Swizzy and his protege, Phiily native Cassidy had everyone two stepping to the hotel after party with this 2003 track. Cassidy was a rookie in the game when he released "Hotel" as the first single from his debut album, Split Personality. The song is just another reminder that Swizz knows how to get the party started and going well into the wee hours of the morning.

5

"Fancy"

Drake Feat. T.I. & Swizz Beatz

When Drake wanted a sure-fire hit for his Young Money debut album, Thank Me Later, he requested Swizz Beatz. The hitmaker teamed up with Drizzy's long-time producer Noah "40" Shebib to create "Fancy," featuring T.I. after an early version, intended for Mary J. Blige, leaked online. The track featured Swizzy speaking to the ladies on the infamous hook: "Oh, you fancy, huh? / Nail done, hair done, everything did." Although Drake already had a Grammy Award under his belt that night, it didn't hurt to have "Fancy" also in the running for the Best Rap Performance By A Duo Or Group at the 53rd Annual Grammy Awards.

4

Long before the general of the LOX decided to take the solo route in 2002 with his debut album A Gangster and A Gentle Man, Swizz Beatz had already come accustomed to his sound. When Styles P delivered his first single, "Good Times," his ode to weed, it was no surprise to discover Swizzy was all over the production. Thanks to the Freda Payne sample of "Get High (On Your Memory)," the song became a beloved song for rap heads and stoners alike.

3

Jay Z's banger "Jigga My N----," which was featured on Ruff Ryder's first compilation album, illustrated the unity between Roc-A-Fella Records and Ruff Ryders Entertainment. The song featured Eve on the hook and can be heard saying "Jigga." For it's catchy hook and of course Hov's cut-throat rhetoric the song was an undeniable street hit and garnered major radio airplay as well.

2

The LOX's second studio album We Are the Streets is another Swizz Beatz masterpiece. The 2000 classic instantly became staple in hip-hop for its hard-hitting beats and was the perfect canvas for the Yonkers lyricists hood tales. Bold, unapologetic and just pure brilliant "F--- You" was not a single nor did it reach the mainstream popularity of "Wild Out," but the track was a still is one of the hardest street bangers to date.

1

Swizz Beatz scored his first Grammy Award with this infectious hit, which was the fourth single from Jay Z's The Blueprint 3 album in 2009. Thanks to Swizzy's production, "One to the Next" was one of the album's biggest singles. At the 53rd Grammy Awards, Hov and Swizzy took home the trophy for Best Rap Duo or Performance.