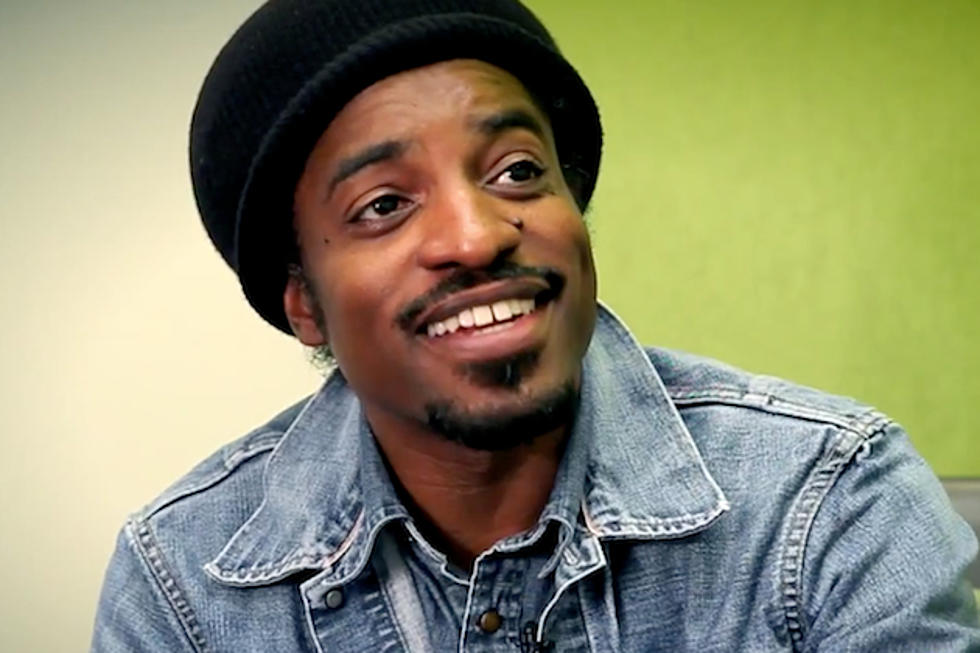 Top 10 Andre 3000 Guest Verses
YouTube
Andre 3000 is your favorite rapper's favorite rapper. As one-half of the legendary rap group OutKast, the Atlanta rhymer is considered one of the best emcees in hip-hop.
Outside of 'Kast, Three Stacks has made hundreds of guest appearances on other artists' songs. Andre rarely disappoints with his guest verses and they are often memorable and quotable at the same time.
In honor of Andre 3000, who is celebrating his 38th birthday today (May 27), we pay homage to his impressive lyrical skills. So check out TheDrop.fm's Top 10 Andre 3000 Guest Verses.
10

'Royal Flush'

Big Boi Feat. Andre 3000 & Raekwon

As member of OutKast, Andre 3000 is the Ying to Big Boi's Yang. On 'Royal Flush,' from Boi's debut LP, 'Sir Luscious Left Foot,' Andre spits the longest and insightful verse on here.

"Crack and I have a lot in common / We both come up in the '80s and we keep that bass pumpin' / That's a nega-tive comparison, embarrassin' / Unfortunate that if you come up fortunate the streets consider you lame / Ha, I thought the name of the game was to have a better life / I guess it ain't, what a shame / I don't slang, never slung / But I'm one with the slum / That has a name well-fitting, plenty cheese getting," he raps.

9

'Throw Some D's' (Remix)

Rich Boy Feat. Andre 3000

Rich Boy's debut single was already a street anthem, but with Three Stacks verse, it became a certified 'hood banger. On the song, Andre reminds the haters that just because he wears bow ties and loafers that doesn't mean he's a softy.

"Ain't a hood n---- but a n---- from the hood," he raps. "But if you want to try, sucka now we can do it / Sleep, Tyneol PM if I pull it / Sheep, count them for the rest of your life," he spits.

8

'Sleazy' (Remix)

Kesha Feat. Andre 3000

Andre 3000 brings his colorful style to the pop world on Kesha's 'Sleazy' (remix). There's nothing unsavory about his guest verse. In fact, the dapper rapper cleans up nicely with his colorful lyrics.

"This crazy lady named Ke$ha is guessin' my Mercedes / Would be all new and improved fruit but it's the 1980s / But now we a cool cool she sippin' Irish Baileys / She say, 'Stacks, you true blue,' I say, ' Naw, I'm navy' / I call her Keisha, she like it because it's hood to her / She call me Andre 6000 because I'm good to her," he raps.

7

'Da Art of Storytelling' (Part 4)

DJ Drama Feat. Andre 3000 & Big Boi

This is the fourth installment of OutKast's 'Da Art of Storytelling' series that started on their 1998 LP 'Aquemini.' The track, which appears on DJ Drama's 'Gangsta Grillz' album, features a blistering verse from Andre. He pretty much bodies the entire song with several hip-hop quotables. Here's one of them:

"So I'm watchin' her fine ass / Walk to my bedroom, and thought to myself / That's the shape of things to come / She said, 'Why you in the club, you don't make it precipitate?' / 'You know, make it rain when you can make it thunderstorm' / I'm like, 'Why?' / The world needs sun / The hood needs funds / There's a war going on and half the battle is guns / How dare I throw it on the floor / When people are poor / So I write like Edgar Allen to restore," he raps.

6

'Deuces (Remix)'

Chris Brown Feat. Drake, Kanye West & Andre 3000

Chris Brown grabbed Drake and Kanye West and Three Stacks for his 'Decues' remix. Drizzy and Yeezy's verses were OK, but Andre hits it out of the ball park with his reflective rhymes about an ex-lover.

"The farewell email from a female / But I'm a playa, ain't gonna tell you all the details / What it entails is hard to say like selling seashells / By the seashore / But she's not a bore / But neither a whore / Who needs to know more," he raps.

Andre later adds, "It's hard to throw up them deuces cause when you know it's juicy / You start to sound like Confucius when making up excuses / Chase the cabooses till the track, go on / I gotta find me a new locomotive, stop making sad songs."

5

'Pink Matter'

Frank Ocean Feat. Andre 3000 & Big Boi

Rap fans rejoiced when news broke that Andre 3000 and Big Boi were going to finally reunite on the remix of Frank Ocean's 'Pink Matter.' But alas, the duo never officially reunited for this track. Nevertheless, we can still dream while listening to it. On the song, Andre raps about being addicted to the sex of a former lover.

"Since you been gone I been having withdrawals / You were such a habit to call / I ain't myself at all had to tell myself naw / She's better with some fella with a regular job / I didn't wanna get her involved / By dinner Mr. Benjamin was sitting in awe / Hopped into my car, drove far / Far's too close and I remember my memory is sharp," he rhymes.

4

'Play the Guitar'

B.o.B Feat. Andre 3000

On B.o.B's guitar-sampled funky track, Andre 3000 brings the fun and offers some words of advice for the youth.

"According to the internet / 3000 got a big old dic-tionary full of words / He must know how to use 'em / It also says I play the violin and that ain't true but / You give me six strings and a pick / And I will make a guitar talk / Why, I ain't gotta say s--- / And I encourage any child to pick up some instrument / 'Cause if you're mad at your dad or mum, you can grab it and strum / Eat your cabbage and corn / By the time you're done / You will finally realize that they meant you no harm / They was trying to save your crazy ass from what's to come / 3000 muthaf---a "Mr. Tell-Me-Somethin'," he spits.

3

'I Do'

Young Jeezy Feat. Jay-Z & Andre 3000

Young Jeezy's 'I Do' is not your atypical rap ballad. The smartly-written song is about being married to the drug game and the vows one must uphold to succeed in matrimony. While Jeezy and Hov rap about falling in love and staying faithful with "Lady C," respectively, Three Stacks flips the script and raps about settling down with his true love.

"Say I do, I do, I do, I do, I do / So we can float up outta here in this hot air balloon / Lets put a baby butterfly up in your lil' cocoon / And maybe 2030 our baby, she'll be nerdy make the whole club swoon," he spits.

2

'What a Job'

Devin the Dude Feat. Snoop Dogg & Andre 3000

Devin the Dude's 'What a Job' is a fantastic song about the struggles to produce and sell music in the rap game. Devin and Snoop Dogg spit some great verses but Andre 3000 steals the show, however, rapping about how music piracy affects his bottom line and a personal conversation between him and a fan.

"You download it for free, we get charged back for it / I know what you're saying, 'They won't know, they won't miss it / 'Besides, I ain't a thief, they won't pay me a visit' / So if I come to your job, take your corn on the cob / And take a couple kernels off it that would be alright with you / Hell no, yeah exactamundo / But we just keep recording and it ain't to get no condo," he raps.

1

'Sixteen'

Rick Ross Feat. Andre 3000

"This is special, extremely special," says Rick Ross on this beautiful soul-styled rap ballad from his album, 'God Forgives, I Don't.' Although Rozay raps on here, this is clearly Andre 3000's song. The OutKast rhymer spits more than sixteen bars as he reflects on his early childhood and provides social commentary on being a celebrity. Honestly, Three Stacks' entire verse is a hip-hop quotable. Peep the lyrics:

"Summer '88, or was it '89 / Or was it winter time? / Aw, never mind / I'm in my room, boomin' / Drawin' LL Cool J album covers with Crayolas on construction paper / I'm trying to fuck my neighbor / 'm tryna hook my waves up / I'm tryin' pull my grades up / To get them saddle lace ups / Before lil' Marc was Jacob / Before them girls wore makeup / Before my voice would break up / Before we'd tour them shake clubs / Before my mama wake up / Before my coins would cake up / Before they tell me they love me and we'll never break up / Before the time she makes love to someone that I thought was my homeboy / But boy, was I wrong, now," he raps.