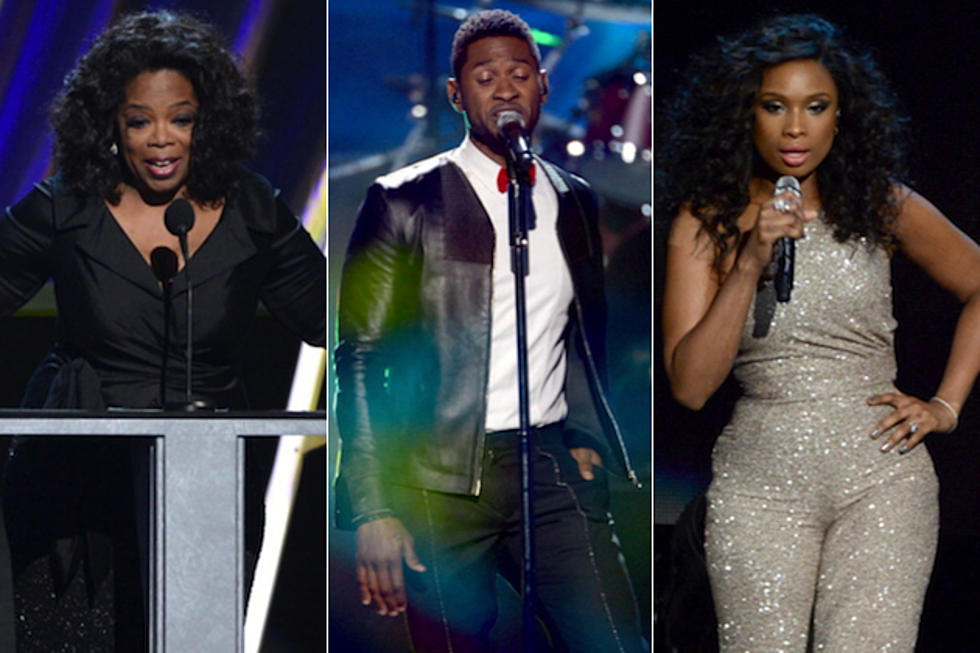 Oprah Winfrey, Usher, Jennifer Hudson Pay Homage to Rock and Roll Hall of Fame Inductees
Kevin Winter(3), Getty Images
Grammy-winning artists Usher and Jennifer Hudson saluted this year's Rock and Roll Hall of Fame inductees alongside Oprah Winfrey on Thursday (April 18) in Los Angeles.
Hip-hop icons Public Enemy, legendary producer Quincy Jones and the late disco queen Donna Summer are among the prestigious group currently being ushered into the Rock Hall.
According to USA Today, Ms. Winfrey was a surprise guest who was at the ceremony to honor her dear friend Quincy Jones.
"You're a marvel and everyone knows it," she said. "You're a genius. You have the most generous soul of anybody I know on earth. We treasure you. We cherish you. We love you."
That was followed by a soulful performance by Usher who sang Michael Jackson's classic song, 'Rock With You.'
Then Kelly Rowland took the stage to induct Donna Summer into the Hall. She theorized about how many babies were made to the late siren's song 'Love to Love You Baby.'
J. Hud also paid respect to Summer, performing two of her classic tunes, 'Bad Girls' and 'Last Dance.'
Summer's husband, Bruce Sudano, and their three daughters were on hand to graciously accept her trophy posthumously.
Finally, Public Enemy was honored for their influential work in hip-hop.
Activist Harry Belafonte saluted P.E. for their heroism, while Spike Lee acknowledged that his 1989 film, 'Do The Right Thing,' wouldn't have had an impact without their blistering anthem, 'Fight the Power.'
During Chuck D's acceptance speech, Flavor Flav hogged the mic and thanked everyone from Miles Davis and God to his each of seven children. He continued rambling until Chuck jumped in to salute prior inductees that have influenced the group including Grandmaster Flash and the Beastie Boys.
Chuck D also responded to critics who thought that their induction was not worthy. "Let us not forget we all come from the damn blues," he said.
Immediately after Chuck D finished, Flavor Flav then grabbed the mic again in an attempt to keep talking, but, thankfully, someone cut his mic off.
Afterward, Public Enemy performed a medley of their hits including 'Fight the Power,' '911 is a Joke' and 'Bring The Noise.'
Other Rock and Roll Hall of Fame inductees included legendary rock bands Rush and Heart, as well blues singer Albert King, and legendary tunesmith Randy Newman.
Watch Inside Out: Rock & Roll Hall Of Fame Inductees 2013