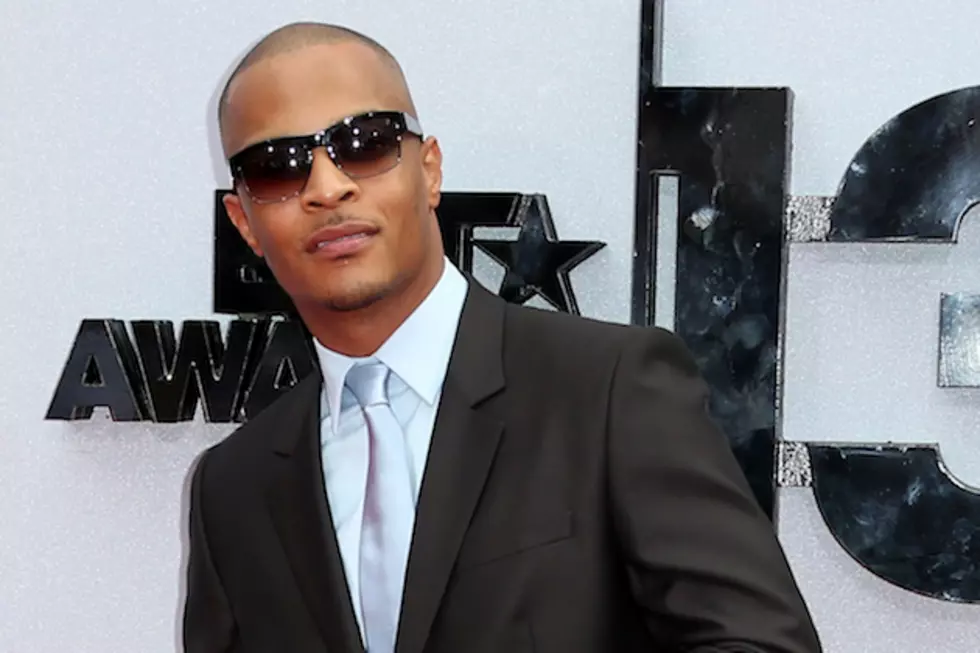 Frederick M. Brown, Getty Images
Happy Birthday T.I.! The self-proclaimed "King of the South" celebrates 33 years on earth today (Sept. 25). In honor of his born day, we count down some of Tip's best songs.
T.I. has managed to forge a successful career for himself, having dabbled in music, film, television and book publishing. Despite a few setbacks, including his infamous gun case back in 2007, the Atlanta native seems to always come out on top. As a rapper, he's maintained a level of excellence that rivals his closest peers in the music game, including buddies Jay Z and Kanye West.
In honor of Tip's career and perseverance, TheDrop.fm presents the Top 10 T.I. Songs.
10

'I'm Serious

'I'm Serious'

Coming in at No. 10 is the Neptunes-produced track 'I'm Serious' from T.I.'s debut 2001 album of the same name. It wasn't his best song and it certainly didn't have any southern flair to it, which may explain why it didn't garner any airplay or sales. Still, Tip's lyricism on the song showed that he had potential to become a rap star. He eventually made up for this slip-up after he signed with Atlantic Records in 2002.

9

Now this is more like it. Produced by Mannie Fresh, the horns-blaring track features T.I. spitting tough rhymes about being a street king and warning foes not to step to him. "I got this Pimp Squad Click, I know you heard about us / Young n----s filthy rich, and we ain't worried 'bout much / On this glock, I clutch, in God I trust / If a f--- n---- start, bet his heart I bust," he raps.

8

'Big Things Poppin''

'T.I. vs. Tip'

From his 2007 album, 'T.I. vs. T.I.P.,' the Atlanta rhymer is in full braggadocio mode as he vows to stay at the top because "being broke is not an option." Tip spits, "I did it nonstop / Now see how these rappers copy me / I made it from the bottom to the top / Where I ought to be / Who do it this good / And do it this fresh / No matter what I do you know I do it to death."

7

'Whatever You Like'

'Paper Trail'

Ladies love T.I., and he loves them back on the smooth rap ballad, 'Whatever You Like.' On the song, the King of the South promises his lady love the world and more. "Stacks on deck, Patron on ice / And we can pop bottles all night / And baby you could have whatever you like," he raps.

6

Car culture is huge in the south. Back in the days, your whip wasn't fly if it wasn't sitting on shiny 24-inch rims. In 2003, T.I. came into rap prominence with this car anthem. The infectious hook goes, "Money rolls, cars and clothes, that's how all my partners know / Burning dro on 24's / That's all, all my my partners roll."

5

'Bring 'Em Out' Feat. Swizz Beatz

'Urban Legend'

Coming in at No. 5 is the club banger 'Bring 'Em Out.' The Swizz Beatz-produced track marked T.I.'s first appearance in the Top 10 on the Billboard Rap Chart. The song samples Jay Z's 'What More Can I Say,' which is apropos considering that Tip is often referred to as the "Jay Z of the South." On the song, T.I. confirms that not only is he the King of the South, he's also the King of the Clubs as well.

4

'Live Your Life' Feat. Rihanna

'Paper Trail'

T.I. scored a big hit with 'Live Your Life' featuring Rihanna. The infectious anthem sold 4 million copies and turned the Atlanta rhymer into a bonafide pop star. On the track, Tip invites us into the mind of a hustler. "I'm the opposite of moderate / Immaculately polished / With the spirit of a hustler and the swagger of a college kid / Allergic to the counterfeit / Impartial to the politics / Articulate, but I'll still grab a n---- by the collar quick," he raps.

3

'Can You Learn' Feat. R. Kelly

'Trouble Man: Heavy Is the Head'

T.I.'s run-ins with the law have been well-documented. On the soulful 'Can You Learn,' the Grand Hustle leader asks his lady love if she's strong enough to stand by his side if things get rough. "Imagine me and you, somewhere happy with a few hundred mills / Sill I could go to jail for some years / 'Cause I push it to the limit, the danger's so exciting / I'm loving every minute, girl this life ain't nothing like it / And you only live once, so as long as I'm alive, I'll be living on the edge / Shawty, sure you wanna ride?" he raps.

2

'Rubber Band Man'

'Trap Muzik'

Now this is a certified street banger! Produced by David Banner, 'Rubber Band Man' became a platinum-selling hit for the rapper. Over an infectious organ riff and a school choir, Tip introduces himself to his listeners. "Who I'm is? / Grand Hustle man / More hustle than Hustle Man / But why the rubber band? / To represent the struggle, man," he spits.

1

Finally, at No. 1, is T.I.'s head-nodding anthem 'What You Know.' It's an oddly inspirational song, despite his drug-themed lyrics and cautionary lines. Tip is dripping with swagger all over the track. "Believed by very few / Just keep it very cool / Or we will bury you," he raps. "See all that attitude is unnecessary dude / You never carry tools not even square, he cube / You got these people fooled, who see me on the tube / If you ever try the crew, they'll see you on the news."