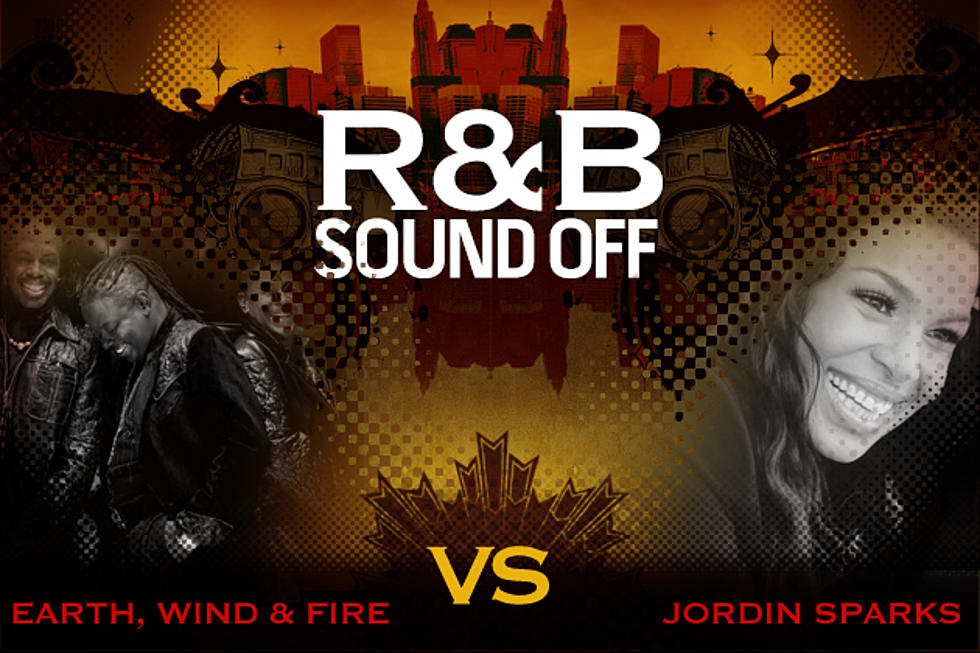 Earth, Wind & Fire vs. Jordin Sparks – R&B Sound Off
TheDrop.fm
It looks like Trey Songz has done it. For the fourth week in a row, the R&B crooner has come out on top in TheDrop.fm's R&B Sound Off. Trey's 'Sensational' took 65.12 percent of the vote while R. Kelly's 'My Story' only received 34.88 percent of the vote. Last week's win means that Songz becomes the next artist to enter the R&B Sound Off Hall of Fame.
That means this week we have two new artists and songs to put into the R&B Sound Off.
First on the list is the '70s funk, R&B, dance group, Earth, Wind & Fire. The music legends are back with new material and just released 'Love Is Law.' Off their upcoming LP, 'Now, Then & Forever,' out on Sept. 10, the song carries the group's signature groove, though a bit slower, with a little updated twist.
"In love we live and love you breath / If love you give then love receive / And love's amazing when it's love you find / It moves you inside," they sing.
Jordin Sparks is on the other side of this Sound Off with her new upbeat, pop track, 'Skipping a Beat.' The latest single, off her upcoming album, celebrates her adoration and love for her boyfriend, Jason Derulo. The songstress describes him as "You're my lover, you're my friend, you're my gangsta."
"You make my heart skip like we're playing hop-scotch / Hope I'm the one that you want to put the rock on," Sparks delivers.
Will Earth, Wind & Fire's iconic status get them the win this week? Or will Sparks' happy love song win the fans over? Vote for your favorite song in the poll below. Remember you can vote once per hour until the poll closes on Tues., Aug. 13, at 10AM ET.
Listen to Earth, Wind & Fire's 'Love Is Law'
Listen to Jordin Sparks' 'Skipping a Beat'
Rules of R&B Sound Off
Two R&B artists sound off against each other each week. The triumphant artist goes on to compete in the next R&B Sound Off. If an artist wins four straight R&B Sound Offs, the song will be honored as immortal in TheDrop.fm R&B Sound Off Hall of Fame.