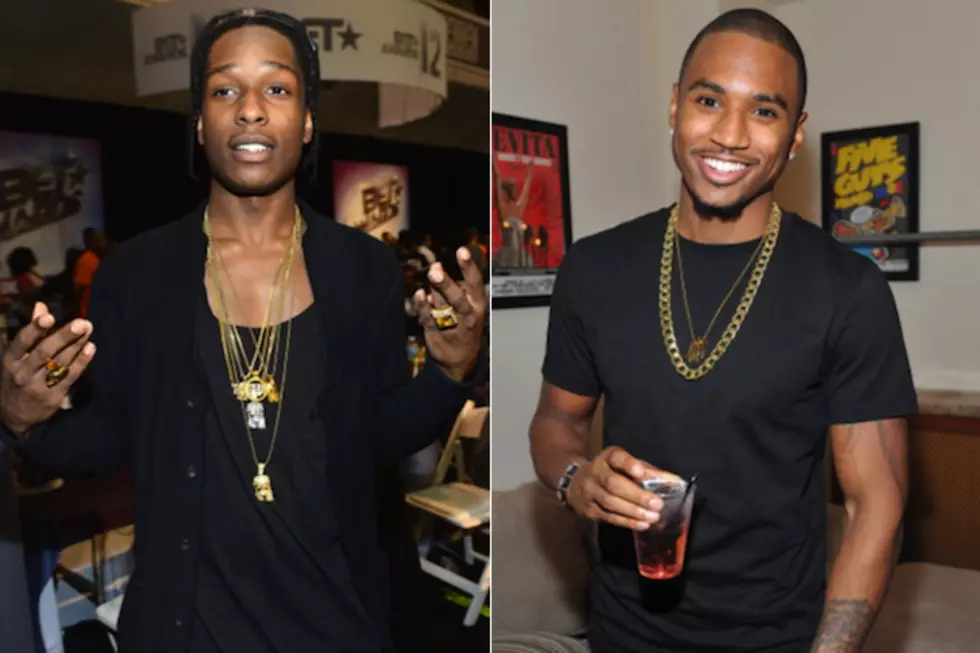 A$AP Rocky's 'Same Bitch' Featuring Trey Songz Touches on Groupies
Alberto E. Rodriguez / Moses Robinson, Getty Images
If you are still bumping A$AP Rocky's 'Long.Live.A$AP' album then check out this unreleased track that didn't make it on the collection.
The song, 'Same Bitch,' features Trey Songz and can be found on DJ Spinatik's upcoming 'Street Runnaz 72' mixtape.
Not much is known about the track but what we can gather is that it was produced by Rico Love -- his "Turn the lights on" catchphrase is heard at the end of the tune. To note, Love co-produced the title track, 'Long Live A$AP,' on Rocky's album.
On 'Same Bitch,' the Harlem native spits rhymes about groupies who want to get a taste of the glamorous life much to their detriment. "People takin' pictures / I ain't even posin' / Couple famous n----s make these bitches slow dip / Reality, she sweatin' me / Her fantasy is sexin' me / Just you standin' next to me will make you a celebrity," he raps.
Songz sings the cautionary hook, "Don't get too close / I might come onto you / Don't get too close / I'm warning you / Because if we f--- tonight, tomorrow you'll be famous."
So ladies let this be a warning to you. Pretty Flacko and Trigga Trey are on the prowl and they sound like heartbreakers.
We'll have to see if A$AP Rocky behaves himself when he joins Rihanna on her Diamonds World Tour in March. We're quite sure the groupies will be out in full effect looking for Dat PMF.
Listen to A$AP Rocky's 'Same Bitch' Feat. Trey Songz