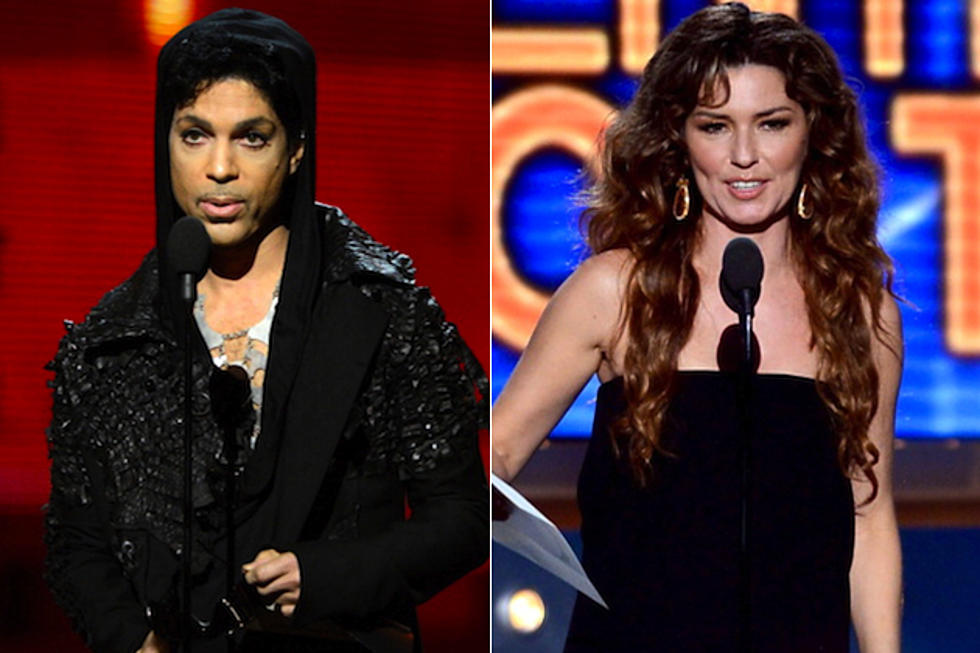 Prince Goes Country, Covers Shania Twain's Love Ballad 'Still the One'
Kevork Djansezian / Ethan Miller, Getty Images
Prince is known for his unique cover songs. His reworking of Radiohead's 'Creep' at the 2008 Coachella Music Festival is legendary. Recently, a 16-year-old cover by the Purple One surfaced on the Internet.
Comedian-writer Dan Chamberlain was digging in his digital library when he discovered a rough demo of a cover song Prince posted on his official website back in 1998.
It was a remaking of Shania Twain's chart-topping country hit, 'You're Still the One.' Of course, in his own Prince-ly way, the guitarist-singer retitled it 'Ur Still the 1.'
King sings Twain's tender lyrics about her undying devotion for her man (at the time, it was producer Mutt Lange, whom she divorced in 2010 after 17 years of marriage).
"Looks like we made it / Look how far we've come my baby," she coos.
Prince chimes in on the chorus, singing, "You're still the one I run to / The one that I belong to / You're still the one I want for life."
The centerpiece of the song is the stellar guitar solo by the Purple badness. It gives the song its rock edge and separates it from the original guitar-twangy version.
Thank you, Prince. And despite your hatred for the Internet, you are still the ONE.