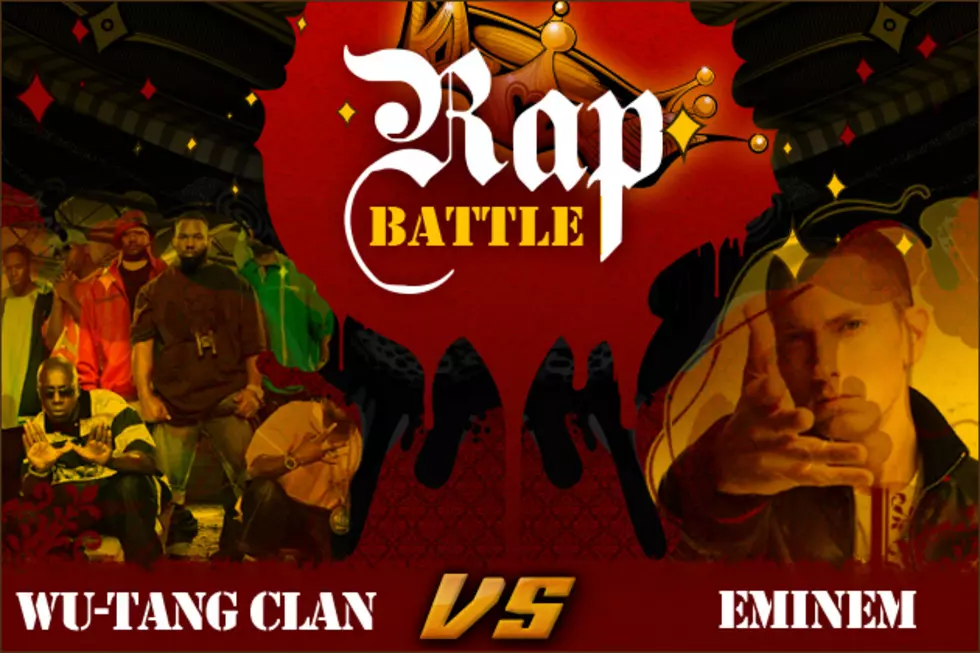 Wu-Tang Clan vs. Eminem – Rap Battle
TheDrop.fm
Not only did Wu-Tang Clan win last week's Rap Battle, but they also blew Busta Rhymes away in votes. Wu-Tang's 'Family Reunion' took 90.63 percent of the votes while Busta's '#Twerkit (Remix)'only took 9 percent.
Wu-Tang Clan's 'Family Reunion' is less abrasive and more celebratory. Produced by RZA, the song samples the O'Jays and commemorates the veteran rap group's 20th year together as a group. The track is off their long-awaited new project, 'A Better Tomorrow,' out this fall.
"Aunt Cherry baked pies, surprise / Johnny showed up / You can tell from the smell in the air, something is rolled up / It's love, peace and happiness with the joy of laughter / Cameras are flashing as the moments are being captured," Masta Killa delivers.
Eminem's new track, 'Symphony in H,' will go against Wu-Tang Clan this week. Considering we've hardly heard the rapper in a while, it's refreshing to get Marshall Mathers back on the mic. The song is roughly 90 seconds with one verse, but the power behind the track reminds you why you fell in love with his work in the first place.
"Love stinks, that explains all this anger that's spillin' out / And I ain't chillin' out / Got an Oscar but I'm still a grouch / I use it as a doorstop and a prop and a broken leg for the couch," he delivers.
Will Wu-Tang keep their winning streak going? Or will the Detroit rapper take that chance away from them? Remember you can vote once per hour until the poll closes on Thurs., June 27, at 10 AM ET.
Listen to Wu-Tang Clan's 'Family Reunion'
Listen to Eminem's 'Symphony in H'
Rules of Rap Battle
Two hip-hop artists compete against each other each week. The triumphant artist goes on to compete in the next Rap Battle. If an artist wins four straight Rap Battles, the song will be honored as immortal in TheDrop.fm Rap Battle Hall of Fame.