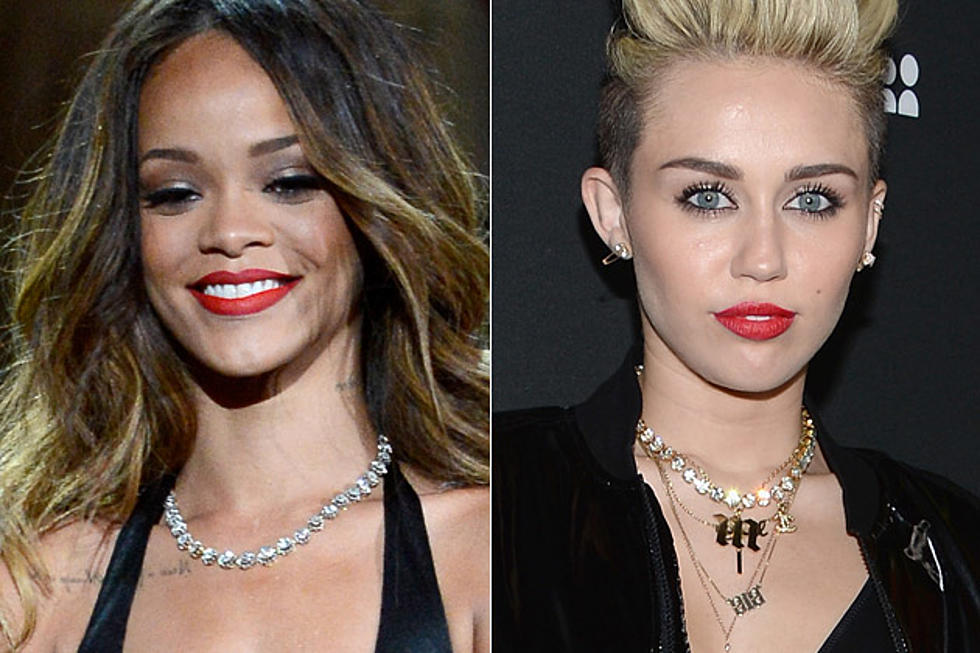 Miley Cyrus' We Can't Stop' Intended for Rihanna
Kevork Djansezian / Jason Kempin, Getty Images
Miley Cyrus's new single, 'We Can't Stop,' is expected to debut on the Billboard charts as a summer party anthem, but it was originally intended for another artist: Rihanna.
The song, which talks about dancing while on molly and doing coke in the bathroom, will finally help Cyrus get rid of that tween image she has so desperately tried to shed since the beginning of her music career.
The party track was written with hopes the Bajan beauty would record it. "When I originally worked on 'We Can't Stop,' we had did it for Rihanna," producer Mike WiLL Made It told MTV News. "The idea was more towards Rihanna. She heard 'Pour It Up' right away, and she didn't even hear 'We Can't Stop.'"
After RiRi dumped the song, Mike WiLL Made It, the hitmaker who has crafted songs for rappers 2 Chainz and Juicy J, took the track over to Sony Music bosses, who thought it would be perfect for Miley Cyrus' new album. The former Disney star has since brought her own attitude to the song and made it her own.
In the music industry, there really is no such thing as sloppy seconds. After all, Rihanna's biggest hits were originally made for other artists. 'Umbrella' was first rejected by Britney Spears before RiRi made it into a mega jam and 'Disturbia' was intended for Chris Brown. Plus, no one knows how to shed a "good girl" image better than RiRi's production team.