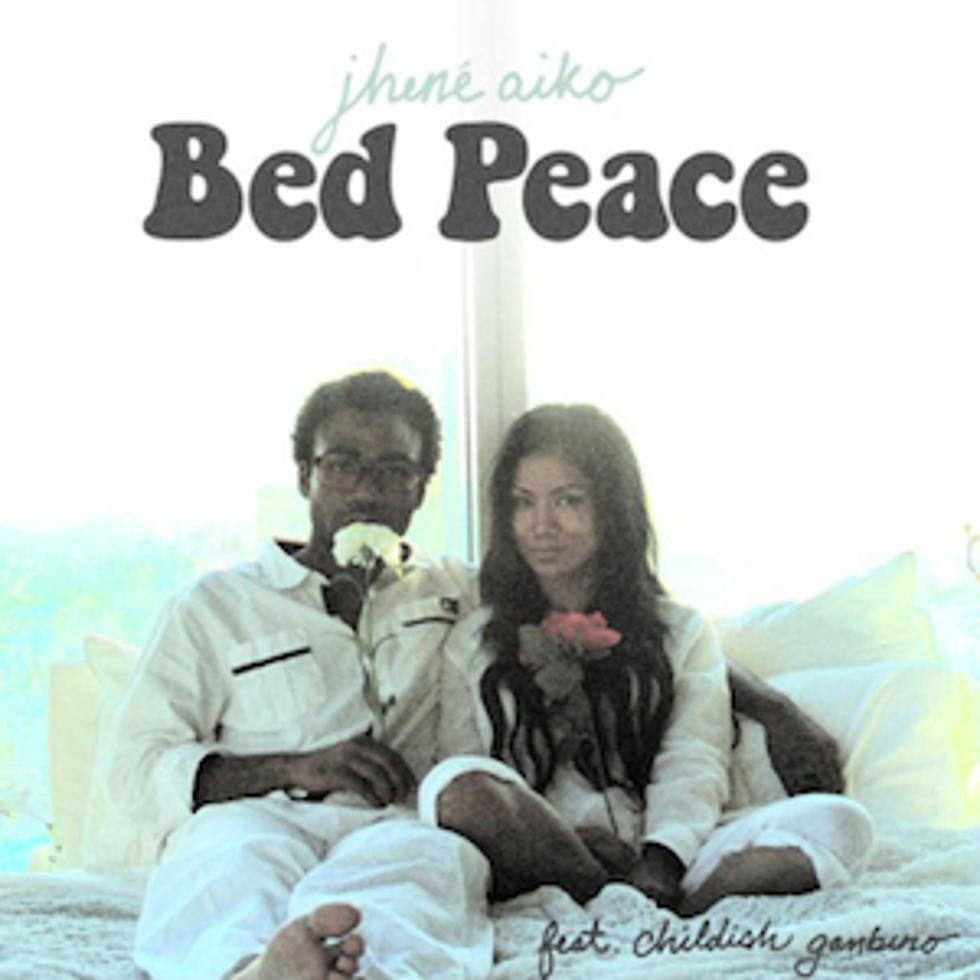 Jhene Aiko Cuddles with Childish Gambino on 'Bed Peace'
Def Jam
While her fans wait patiently for her debut album, 'Souled Out,' Jhene Aiko plans to drop an EP called 'Sail Out' in October. The first single from the effort is this summery track titled 'Bed Peace' featuring Childish Gambino.
On the Fisticuffs-produced song, Aiko yearns for a staycation and a quick romp in the sack with her lover, which, ironically, is rumored to be Gambino.
"If I had it my way / I would roll out of bed say / 'bout 2:30 miday / Hit the blunt then hit you up / To come over to my place / You show up right away / We make love and then we f--- / And then you give me my space," she sings.
Meanwhile, Gambino spits laid-back rhymes on the tune. The rapper describes Aiko as his security blanket and loves it when they cuddle in bed together.
"Curl up with my head on your chest / Is the best remedy for the pain and the stress," he raps.
The single's cover art was inspired by John Legend and Yoko One's Bed-Ins for peace, which was their non-violent way of protesting the Vietnam War.
We can dig it. Peace, love and plenty of bed rest. Ha!
"It's like bridging the gap between [my mixtape] 'Sailing Soul(s)' and 'Souled Out,'" she tells Rap-Up about the EP. "'Sail Out' has a lot of the hip-hop/rap influence on it, even with the beats."
Check out Aiko's new single below.
Listen to Jhene Aiko's 'Bed Peace' Feat. Childish Gambino