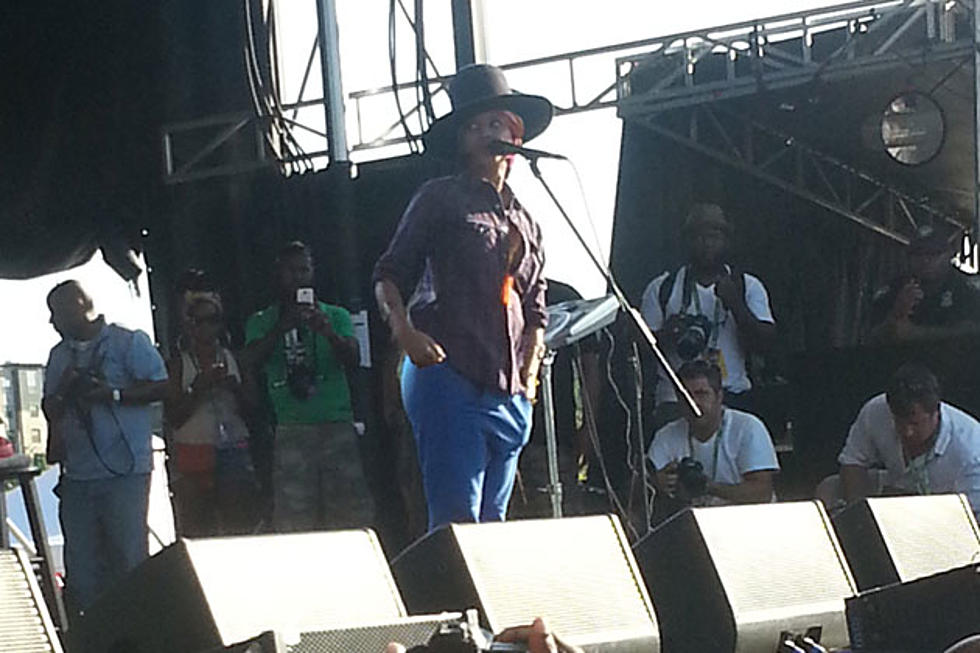 Erykah Badu, Goodie Mob & Snoop Dogg Take Over Atlanta's One Music Fest
Nadine Graham, TheDrop.fm
On Saturday (Sept. 14), the annual One Music Fest took place in the Old Fourth Ward neighborhood of Atlanta. The day-long event featured performances from contest winners, locally known acts and industry veterans, including Pete Rock, Snoop Dogg, Goodie Mob and Erykah Badu.
Near the start of the festivities, the Atlanta-based band Ruby Velle & the Soulphonics performed on one stage while Joey BadA$$ and R&B crooner Luke James kicked things off on another. The Def Jam signee teased his female fans with the most sultry picks from his catalog like the sensual 'Make Love to Me.' James ended his set shirtless, glistening and self-satisfied by the applause.
Just after James heated things up, Philly's own Res brought her cool factor to the smaller Purple Rain stage. Donning a fitted, two-piece skirt suit and white Chuck Taylors, the braided beauty pulled songs from her critically-acclaimed debut LP, 'How I Do,' as well as her later works. Her performance appealed to her longtime fans -- maybe even garnering a few more after she stepped off stage. Res was the perfect appetizer for what was to come next.
Less than 24 hours before festival doors opened, the OMF staff confirmed that Erykah Badu would be making a pop-up appearance as her alter-ego DJ Lo Down Loretta Brown. Around 6PM on Saturday, Badu touched the stage to deafening applause. In her playful but soft-spoken way, the soulstress shared that she was supposed to spin but the universe must have intervened -- she'd discovered that her laptop had crashed, making her music inaccessible.
To the delight of the audience, Badu offered to warble a few choice tracks -- starting with '20 Feet Tall.' She captivated the crowd, moving into an impromptu beat machine jam session, then funking things up a bit with her rendition of A Tribe Called Quest's 'Sucka N----.' The chanteuse had attendees in the palm of her hand, swinging her super-long braids, swaying her hips to the beat, even hopping down to mingle mid-set. Joey BadA$$ and his crew stood, enthralled, staring up from the press pit where the young MC couldn't help but enthuse, "Yo... She's dope!"
After Badu, Goodie Mob touched the stage and their set list, spanning 20 years, had the audience two-stepping and twerking the entire time to hits like 'Black Ice' and 'Soul Food.' The newly reunited Mob brought A-Town soul music fixture Joi Gilliam to the stage. Then Cee-Lo pulled Miss Badu back out for a bit of nostalgic vibing as the two belted the lyrics to 'Liberation' from OutKast's 'Aquemini' album.
One Music Fest was capped off with an impressive set from Snoop Dogg, who curiously enough was listed as such on all promo materials, with a small note referring to his "other" name. Snoop Lion took a backseat to the Doggy Dogg that night as the rapper rolled through classics from 'The Chronic' and his own debut, continuing on to those more recent songs including 'Drop It Like It's Hot' and his 'All I Do Is Win' verse.
The veteran MC even brought his old crew Tha Dogg Pound with him -- both Daz and Kurupt graced the stage that evening. Just before leading into his verse on 50 Cent's 'P.I.M.P. (Remix),' Snoop gave the crowd a little motivation, "I like Atlanta for one reason and that's because they understand the pimpin'!"
All in all, One Music Fest ended up being the place to be, offering everything from R&B and soul to rock and hip-hop. Under the warmth of the late summer sun through to the cool twilight breeze, the speakers kept booming and artists put on their best sets, spilling good energy over into a pulsing crowd of fans who were happy to sing and dance for hours on end.