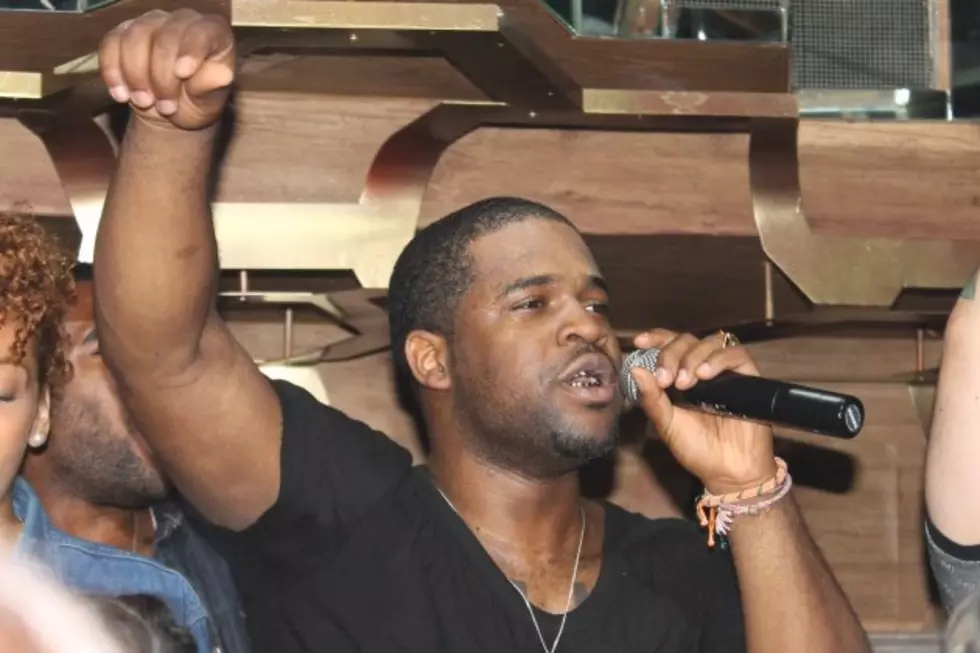 A$AP Ferg Previews 'Trap Lord' at Listening Session in New York City [Exclusive]
Natelege Whaley, TheDrop.fm
"This is church right here," A$AP Ferg proclaimed, with a mouth full of grills, during the listening session for his forthcoming debut LP, 'Trap Lord,' Monday night (Aug. 5). The Harlem-bred rapper stood behind a velvet rope in the center of a packed room on the bottom floor of The Darby, a posh venue located on 14th St., in New York City.
A$AP Rocky joined his broham briefly before he left the spot to get on his "PT" -- private jet -- and DJ Soul spun trap classics before Ferg touched the mic. Throughout the night, Soul transitioned each album cut with a drop of gun shots. Bodega Bamz and members of the Tanboys also joined Ferg for the event.
The first thoughts that come to mind after hearing Ferg's speedy delivery on his new record is the clear influence that the Cleveland, Ohio hip-hop group Bone Thugs-N-Harmony had on the 24-year-old rapper. Ferg welcomed his predecessors on 'Lord,' produced by Crystal Caines. Bizzy Bone prays as the track begins to fade out.
Although the Hamilton Heights native may dabble in trap, chopped and screwed and the jittery proverbial of the Midwest, he still manages to bring his own idiosyncrasies, which depart from the rap gods he grew up on.
Sometimes Ferg wants to be Shabba Ranks, the 1990's dancehall king. On 'Shabba,' Ferg pays homage as he bobs and weaves out of his New Yawker speech to Jamaican patois, easily revealing his heritage. "Eight gold rings like I'm Sha-Shabba Ranks / Four gold chains like I'm Sha-Shabba Ranks," he spits repetitively.
He also wants to take you to church. On 'Hood Pope,' Ferg likens himself to gospel singer Donnie McClurkin, as a preacher presiding over his congregation with his lyrics. "It's the hood Pope, chain hang low, red rubies and the gold / Young Trap Lord, feel your pain, I be down for my people," he croons. Ferg's identity appears to be fluid but authentically his.
On 'Fergivicious,' he shows that he's just beginning to face inner troubles, such as the passing of his father. "All I know is pain," he raps on the track, which also features A$AP Rocky as they both relate to the uneasy topic.
'Trap Lord' is also filled with gruesome imagery with many mentions of a semi-automatic as a choice of weaponry. On 'Let It Go,' the rhymer leaves his enemy with a "Body full of bullets when they find him on di road / Lay 'em down spray 'em then reload."
The album is a cohesive, dark effort bursting with rumbling bass and backed by creepy rings and gongs. There's no doubt those who live for the turn up will embrace Ferg's records as the summer comes to an end.
Watch A$AP Ferg's 'Shabba' Video Feat. A$AP Rocky