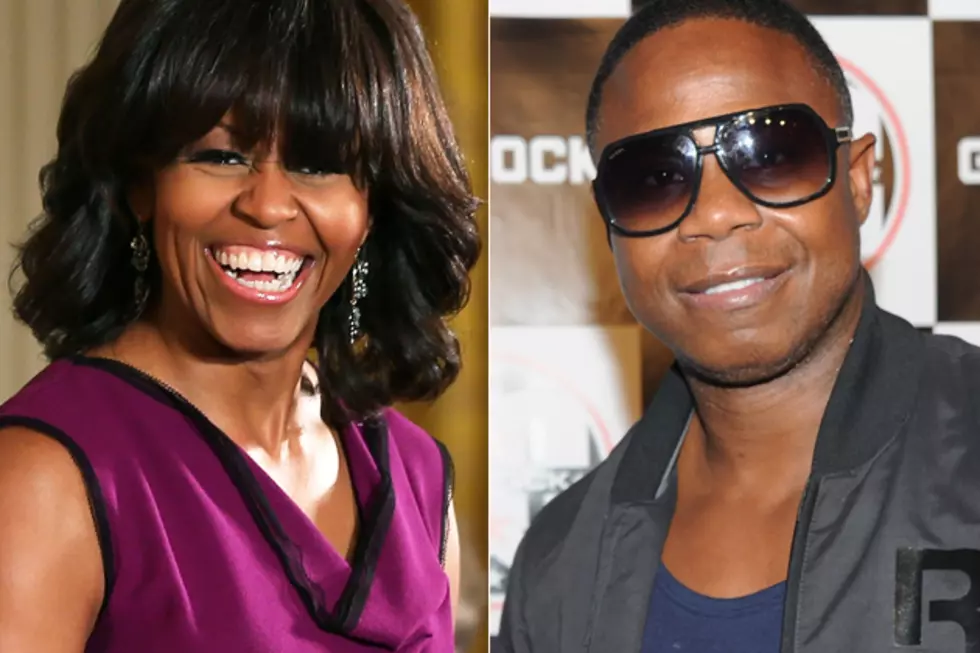 Michelle Obama's Hip-Hop Album Will Feature Doug E. Fresh, Matisyahu + More
Mark Wilson / Jamie McCarthy, Getty Images
Doug E. Fresh, Matisyahu and more hip-hop stars are hoping their vocals can get kids moving. The artists join Michelle Obama's Partnership for a Healthier America and Hip Hop Public Health to create an album focused on getting kids to stay active and be healthy.

"So many kids listen to Hip Hop so why not give these messages to kids in a way that's not preachy." Sam Kass, Let's Move executive director and White House assistant chef explained. "I think hip hop in particular – so many kids love hip hop. It's such a core part of our culture," he said. "…Particularly in the African- American community and the Latino community which is being disproportionately affected by those health issues."
The first single, 'Everybody,' features Sparks, Doug E. Fresh and Doctor Oz.
The album arrives Sept. 30.
'Songs for a Healthier America' Tracklist
1. 'U R What You Eat' (Salad Bar: Matisyahu, Ariana Grande, Travis Barker)
2. 'Everybody' (Jordin Sparks, Doug E. Fresh, Dr Oz, Ryan Beatty, Hip Hop MD)
3. 'Let's Move' (Doug E. Fresh, Artie Green, Chauncey Hawkins)
4. 'Just Believe' (Ashanti, Gerry Gunn, Artie Green, Robbie Nova)
5. 'Veggie Luv' (Monifah and J Rome)
6. 'Hip Hop FEET' (DMC and Artie Green)
7. 'Stronger' (Shayna Steele, Jeremy Jordan, Our Time Theater kids, and E-Street Band guitarist Nils Lofgren)
8. 'Give Myself a Try' (Ryan Beatty)
9. 'Jump Up' (Brady Rymer and the Little band that Could)
10. 'Hip Hop LEAN' (Artie Green)
11. 'Pass the Rock' (Iman Schumpert and Artie Green)
12. 'Good Living' (Ashton Jones)
13. 'Beautiful' (Daisy Grant and Artie Green)
14. 'Change the Game' (The Happiness Club, featuring Naledge)
15. 'Wanna Jump (Let's Move)' (Paul Burch)
16. 'Mother May I' (Amelia Robinson)
17. 'We Like Vegetables' (Los Barkers!)
18. 'Get Up Sit Up' (Babi Floyd)
19. 'One Step Forward' (Samite)
Watch Doug E. Fresh & Jordin Sparks in 'Everybody' Video