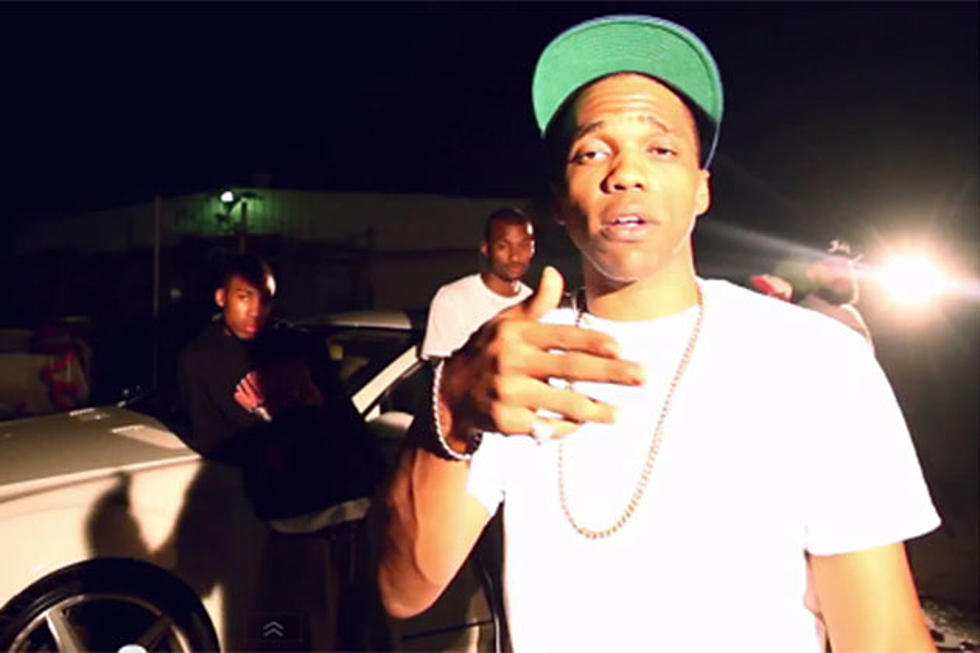 Curren$y Talks Fan Appreciation, Returning Home to New Orleans and His Photography Skills
YouTube
Curren$y possesses a certain confidence unseen in many rappers who tend to reek of mediocrity, veiling low self-esteem with extra jewels and dubbed out buggies.
But the 'New Jet City' creator has been in the rap industry for more than a decade and he's lasted this long by simply following his own lead and maintaining a substantial level of respect for his fans.
At a recent BMI Unsigned Urban Showcase in Atlanta, Curren$y performed his set, which included tracks spanning the bulk of his career, and once the music stopped, the crowd surged forward, familiar with his habit of staying onstage to sign every hat, sneaker and T-shirt being offered.
Sometimes the emcee even jumps down, walking through the crowd and initiating conversation to the surprise of a lingering few. Later in the evening, he tells TheDrop.fm, "I got like 10 cars right? [The fans] bought every one of 'em."
"I didn't buy 'em. Flat out," he adds. "They bought 'em so I gotta kick it. I have to know what's going on in their lives. That way I know what I'm talking about in my music -- for them. We all friends you know?"
Watch Curren$y's 'Showroom' Video
Apparently, his dedicated fans feel the same because as Curren$y signs autographs and gives pounds, he accepts gifts from his supporters as well. And they know him well. "My little homie bought me this 'Vette, this one chick gave me a little Lamborghini. I just get cars," he says, smiling.
"Candy. I'm pretty sure I got Starburst and all kinda s--- in my pocket," he continues. "And it rains doobies. They had to have thrown like an ounce of already rolled up joints, so that was cool."
Earlier in the evening, Curren$y quipped that he'd spotted men in suits donning badges and that they may have a problem at this type of show where the smoke tends to be so thick one can watch it sit over the crowd for hours. "Security didn't trip," he says, incredulously. "I saw people in suits with badges and I thought it was gon' be an issue but they seemed to just groove to the tunes and everything was okay."
Watch Curren$y's 'Mary' Video
Sometimes things can get rambunctious at a rap show where the crowd is eager to see the headliner and there's weed involved -- not to mention alcohol -- but the emcee dismisses the thought almost immediately. "Nah. Everybody's too high," he says, only half-jokingly. "They're way too high for confusion. There shouldn't be any. Unless somebody's just smoking some bad weed. Other than that, everybody just having fun you know?"
"I don't make music to where I gotta be scared of the crowd," he shares. "I don't make rough music, so nobody's bringing guns. So it's alright for me to walk through the crowd. Say 'what's up,' all they're gonna do is... Well, you see what happened," he said, motioning to his new presents.
There's an omnipresent air of comfort that surrounds Curren$y Spitta at all times it seems, and it would be too easy to attribute it to all the reefer. No. It's bigger than the green. He genuinely looks to be at peace. Even while wrapping up a new mixtape, 'Live in Concert,' with Wiz Khalifa and preparing to start on a new LP, 'Pilot Talk III,' Curren$y never seems pressed. When he goes home to New Orleans, the emcee says he's about the homebody life.
Besides working at his rim shop, sporting the uniform and all, he says he's pretty low-profile in the N.O. "In New Orleans, everybody used to me so they're not trippin'," he shares. "They watched me grow up. But sometimes people will come [into the shop] and you know they're not really coming in there to get rims or to get any [work done on their car]."
"They just come in there bumping music or with CDs every now and then. But it comes with it so it's all good. It comes with hard work. People just appreciate the work so it's good. I'm not upset about it at all."
Watch Curren$y's 'Capitol' Video
When he clocks out for the day, Spitta leads a comfortable pedestrian life. "I drive around, wash the car, maybe wash the dogs," he explains. "I've got pitbulls, a French bulldog... The pitbulls, I've got like, a yard of those."
"The French bulldog lives at the crib with me and he's like a boss, he's tight, so I hang out with him. We'll go to the lake or some s--- like that. I'll go to Magnolia, around the French Quarters and get chicken and waffles. Pretty much just ride around and look for places I can park my car that would look cool."
There's a vein of creativity that runs through the rapper every minute he's awake -- that's another thing. His Instagram is a pretty accurate snapshot of who he is -- not image-wise but really, who he is. Candid shots of his family and his cars fill the popular stream and he plans on doing a little more with it once the summer hits.
"I'm just ready to go on tour," he says excitedly. "Just so I can take more pictures of these. I wanna bring a grip of 'em and do 'em like landmarks. Not per se the venue I'm performing at but like, the town."
"Find a good spot in the city and make a little book...," he continues, mind already racing. "I'm pretty sure there will be jackasses online that'll call me a nerd for it but there are people who'd love it too, 'cause I definitely love this shit. It's gonna be tight."
Watch Curren$y's 'Jet Life' Video