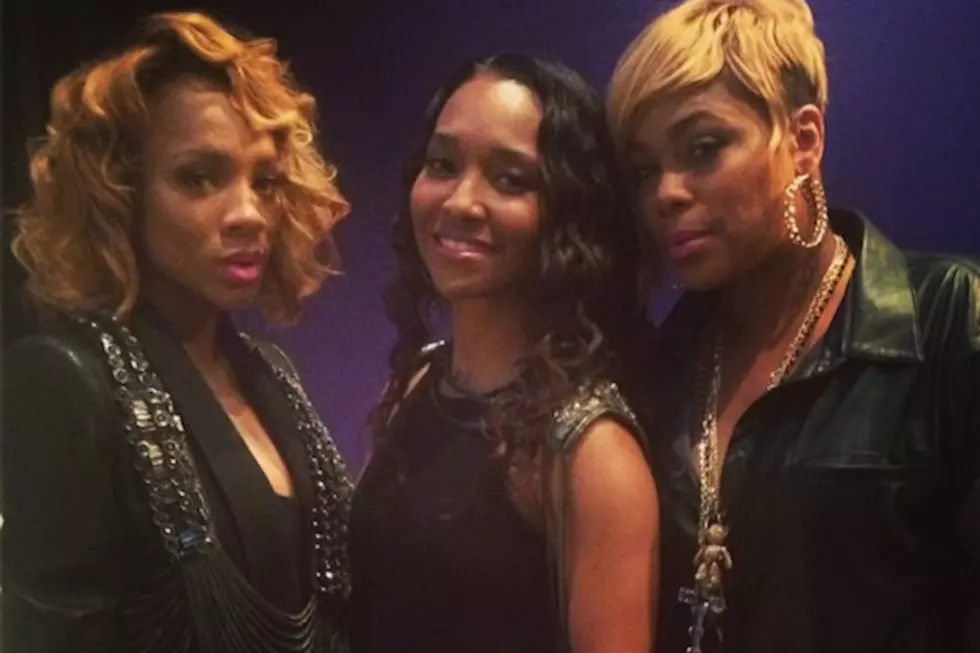 TLC Plan Album for October Release, Enlist Lil Mama for Reunion Concert
Epic Records / Instagram
After an 11-year hiatus, '90s girl group TLC are launching a huge comeback that will include a VH1 biopic and a compilation album in the fall.
At a press conference on Thursday (July 25) in New York, Tionne "T-Boz" Watkins and Rozanda "Chilli" Thomas revealed a greatest-hits album is being prepped for an Oct. 15 release. The collection will contain their classic hits as well as two new tracks: 'Posh Life,' penned by Lady Gaga and 'Meant to Be' written by Ne-Yo.
There's also hope that Drake and J. Cole will contribute something to the project as well. Cole enlisted TLC to sing the hook on his song, 'Crooked Smile,' so let's hope he returns the favor.
In addition, they have recruited Lil Mama to fill in for the late Lisa "Left Eye" Lopes at the duo's reunion show this Saturday (July 27) at the Mixtape Festival in Hershey Park, Penn.
All of this culminates with the premiere of VH1's TV biopic 'CrazySexyCool: the TLC Story,' on Oct. 21. The movie features Keke Palmer as Chilli, Drew Sidora as T-Boz and Lil Mama as Left Eye.
Lil Mama said she was honored to portray Left Eye in the biopic and humbled to be performing alongside T-Boz and Chilli at their reunion show.
"Lisa Lopes was a one-of-kind performer who cannot be replaced," Lil Mama stated. "I am grateful to Chilli and T-Boz for the confidence they had in me to portray her in the film and to invite me to perform and record with them and pay tribute to her incredible talent."
Chilli concurred and said, "Watching Lil Mama on the set of our movie 'CrazySexyCool: The TLC Story' reminded us of Lisa's spirit, and, for the first time since her passing, we felt everything come together in an organic way."
T-Boz added, "Lil Mama's authentic style, although very different from Lisa's, got our creative juices flowing. By bringing her in, we will continue to keep TLC's music alive for a new generation of fans. We are thrilled to be writing this new chapter in the TLC story."
We are glad that TLC are back and will be releasing some new music very soon.