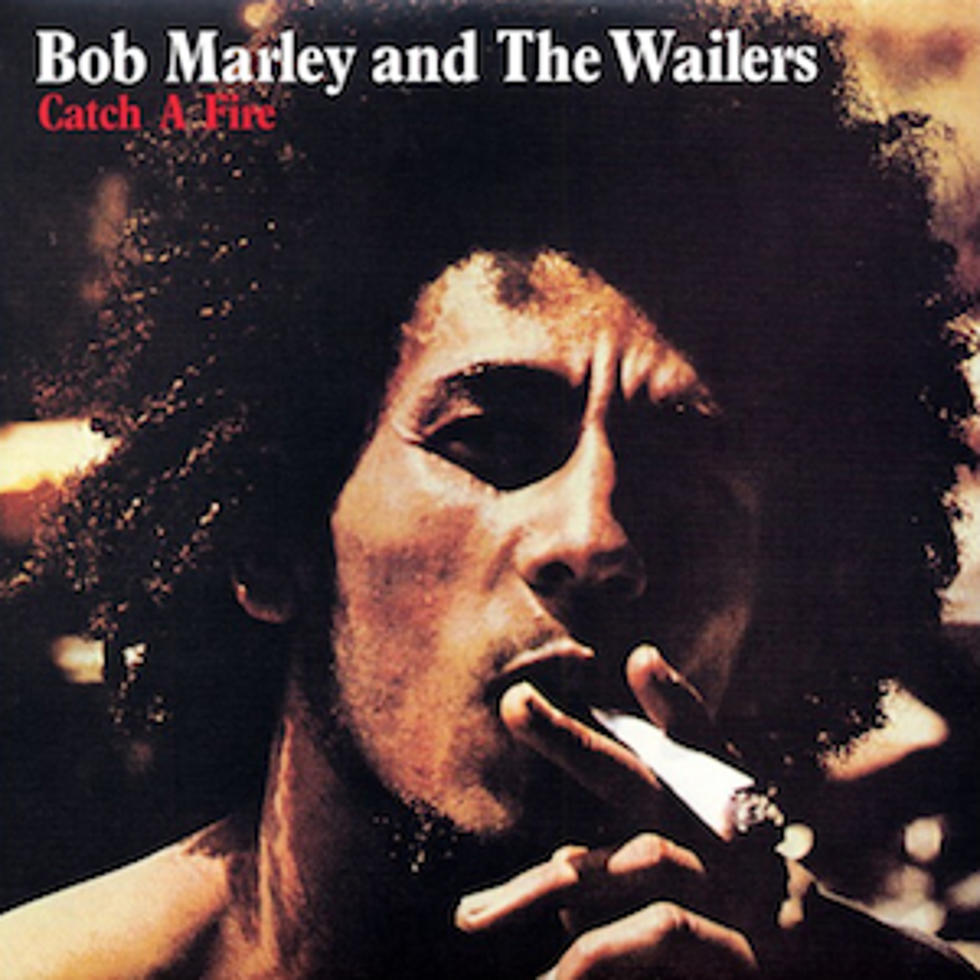 Bob Marley's Classic Album, 'Catch a Fire,' Turns 40
Island Records
Bob Marley and the Wailers' seminal album, 'Catch a Fire,' which made them international superstars, debuted in the marketplace on April 13, 1973. Forty years later, it's still remembered as one of the greatest reggae albums ever made.
The group consists of Bob Marley, his stepbrother Bunny Wailer, guitarist-vocalist Peter Tosh, keyboardist Earl Lindo, bassist Aston Barrett and his brother, drummer Carlton Barrett. Together, the group was on a mission to give a voice to disenfranchised people and spread a message of empowerment.
"Reggae music is the heartbeat of the people. It's a universal language," said Aston Barrett. "Bob said, 'one good thing about it, when it hits you feel no pain. So we were trying to express those lyrics… within that reggae roots with that R&B flavor to get across the world."
In 1972, the band was stranded in London trying to establish their sound when Chris Blackwell, the founder of Island Records, summoned them to his headquarters with the intent of signing them to his label. After their discussion, Blackwell gave Marley's group an advance (reportedly $5,000 U.S. dollars) and covered their traveling costs for them to return to Kingston, Jamaica to record 'Catch a Fire.'
It didn't take the Wailers very long to record the album, thanks, in large part, to the band's constant rehearsing before going into the studio. Once the music was completed, Marley return to London where he and Blackwell remixed the songs and overdubbed them.
Blackwell's goal was to make Bob Marley and the Wailers marketable to rock audiences in the U.S. Initially, the cover of the original 1973 album featured a Zippo lighter that opened up and the group's revised name "The Wailers." A few years later, an alternate (and widely known) cover was used, featuring Esther Anderson's photograph of Bob smoking a joint, and the band's full name "Bob Marley and the Wailers."
The new cover attracted an international audience in two ways. First, it spread the group's Rastafarian idealism, which regarded ganja as a religious sacrament, and secondly, cemented reggae as this new "rebel" sound analogous to rock music.
The album only had nine songs -- all of them were infectious and potent. One of the standout tracks is 'Slave Driver,' which inspired the LP's title 'Catch a Fire.' The song featured Bob condemning the atrocities of slavery and how it's still deeply affecting black people.
"Every time I hear the cracking of the whip / My blood run cold / I remember on the slave ship they brutalize our very soul / Today they say that we are free / Only to be chained in poverty," he sings.
Another tune, 'Stir It Up,' is a love ballad in which Bob used the metaphor of cooking to describe his devotion to his wife, Rita. "I'll push the wood, I'll blaze your fire / Then I'll satisfy your heart's desire / Said I'll stir it, yeah, every minute, yeah / All you got to do is keep it in, baby," Bob croons.
On the guitar-charging 'Concrete Jungle,' Bob describes living in the harsh conditions of their Trenchtown neighborhood in Kingston, Jamaica.
Overall, 'Catch a Fire' had an enormous affect on popular music not only influencing the sound of black music but other genres like punk and rock.
For his contribution on 'Catch a Fire,' Blackwell was honored to work with Bob Marley and the Wailers and introduce them to the world.
"I'm incredibly proud to have been a part of it," Blackwell told The BoomBox earlier this week. "I consider myself very fortunate. He was stranded in England and came walking into my office. The only thing I ever did for him was to put him in the direction to find his audience. That was really it. I'm very proud of it. His records speak for themselves."
Watch Bob Marley's 'Stir It Up' (Live) Video
Watch Bob Marley's 'Concrete Jungle' (Live) Video
Watch Bob Marley's 'Slave Driver' (Live) Video