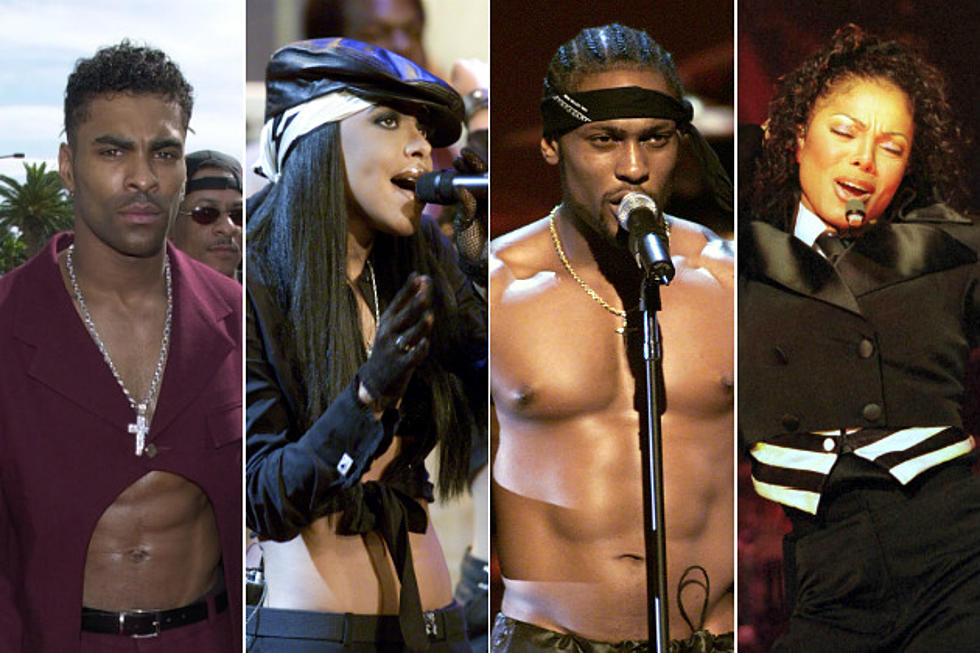 25 Slow Jams for Cuffing Season
Chris Weeks / Kevin Winter / Frank Micelotta / Simon Baker, Getty Images
Now that the cooler air and shorter days are rolling in, what many like to call "Cuffing Season" arrives -- the yearly race for co-hibernation. Some say recruitment has already begun. If you do lock down a mate for the winter or already have one, you probably need some sounds to kick things off on those nights when you're cuddled up. Don't worry, loners and those loving the single life can load up these tunes as well. From Aaliyah to Jodeci, these are the slow jams for the cuffer in you. Check out 25 Slow Jams for Cuffing Season.
25

'So Into You' is definitely a classic love song and Tamia kills it with her wide-range vocals. The songbird is caught up in the rapture of love and she "can't really explain it," but she knows that it's real.

"It could be the way that you hold me / It could be the things that you say / Oh, I'm not too sure what it is boy / But I know I like feeling this way," she ponders on the song. Tamia let's her guy know that she doesn't want him leaving her side.

24

'Signs'

Beyonce Feat. Missy Elliott

Beyonce, along with Missy Elliott, break down the many idiosyncrasies throughout the zodiac on 'Signs,' from the singer's solo debut album, 'Dangerously in Love.' The Texas-bred singer reveals in the opening lines that she was once in love with a Sagittarius who blew her mind and reminded her of every sign.

She's now venturing out to see which of the other signs matches her Virgo traits. "Every sign from the first to the last / Everyday of the month has its good and its bad / I love you all, all 12 signs," she sings. Bey runs them down, comparing and contrasting, but eventually can't choose one, so she just chooses them all. It's better to keep your options open anyway

23

'Til the End of Time'

Justin Timberlake Feat. Beyonce

On 'Til the End of Time,' Justin Timberlake is reminded that although the world is filled with darkness, he can at least look at the love of his life and find beauty. With that, he's more than content.

"Sick and tired of tryin' to save the world / I just wanna spend my time with you, girl / And what you give me lets me know / That we'll be alright." The original record was on his 2007 sophomore album, 'FutureSex/LoveSounds.' Beyonce, who rarely does duets, jumped on 'Til the End of Time' and covered the second verse which gave the song a new life.

22

Taken from the vault's of Tony, Toni, Tone!, Alicia Keys created 'Diary,' a neo-soul stirring ode to a significant other who seems to be holding back on revealing the deeper parts of themself. Keys is ready to bring light to those dark corners.

"Only we know what it is talked about, baby boy /...I'll be the loyalty you need / You can trust me, boy," she promises. Jermaine Paul, her former back-up singer and 'The Voice' winner, joins in at the end of the song with powerful, heartfelt vocals to round out the sensual, seductive track.

21

There are levels to relationships and on 'Say Yes,' the ladies of Floetry are ready to show, rather than tell, how they feel about their boos. This 2002 track appears on the group's debut album, 'Floetic.'

"There is only one for me / You have made that a possibility / We could take that step to see, ohh / If this is really gonna be / All you gotta do is say yes," Marsha Ambrosius sings on the first verse. Although she treads lightly on the topic, the object of her desire has no real option but to oblige and take things to new heights.

20

'Can U Handle It?' is a steamy conversation between Usher and his girl. They are both hesitant about going to a place they haven't been in their relationship yet. But his partner says she can in fact handle it. Usher starts by revealing his intentions.

"I'm willing to tell you / Everything I let stand between us / But what if I tell you too much?" he asks. Then he flips it back on her and wants to know if she's going to reveal "all the freaky things" to him. By the end of this song, we assume that they'll be finding out all that they're curious minds are wondering.

19

Although the 2007 track is less than two minutes long, Jill Scott takes us through a visual journey on 'Crown Royal' that is enough to fulfill our ear's audible satisfaction.

"In so deep I'm breathing for you, you / Grab my braids, arch my back high for you / Your diesel engine, I'm squirting mad oil, ah / Down on the floor til my speaker starts to boil," she sings. This is not your sweet, leave it to the imagination kind of love-making song. Jill leaves it all on the floor -- literately -- and is unapologetic about it.

18

'Soon As I Get Home'

Faith Evans

Faith Evans has been working overtime, but not at home and her man sort of feels left out of the mix. The former Bad Boy recording artist promises to make it up to him on the throwback 'Soon As I Get Home.'

"If I try to spend some time with you / To make you happy, would you feel better / And if I could, with you I would be forever / Forever in love...," she sings. 'Soon As I Get Home' reminds us that if we've got something good, then it's worth taking the extra time to make it right.

17

We don't condone secret relationships because let's face it, the truth always comes to the light. It's never pretty, but Xscape makes it sound so sweet. The group has no shame in their little sneaky ways and sing proudly of them on 'My Little Secret.'

"I like being in the same room as you and your girlfriend. / The fact that she don't know / That really turns me on," group member LaTocha sings on the bridge. This is wrong, but the feeling is right and they don't plan on telling anyone.

16

'All The Things (Your Man Won't Do)

Joe

Some guys like a damsel in distress and Joe has found his muse in this unfortunate predicament. 'All The Things (Your Man Won't Do)' is what happens when a man slacks at home -- another guy slides in and wins.

"Tell me what kind of man / Would treat his woman so cold / Treat you like you're nothin' / When you're worth more than gold," he sings. By the end of this track, if this lady hasn't already left her man, she's probably thinking hard about it. Treat your loves right, people.

15

'How Many Ways'

Toni Braxton

Toni Braxton's beau is heaven sent on 'How Many Ways' and her gratitude is overflowing for all that he does -- so much so, she has to count out the ways in which she loves him through her actions.

"...One, two, I love you / Three, four, so much more / Five, six, I can't get enough, get enough of this / Seven let me show you my love and take you to heaven," she sings on the mellow track. She could count "up to 99" and still believe she hasn't given enough.

14

TLC's 'Red Light Special' is not for the timid dudes. The bold ladies have a list of directions for how they want it "all through the night." And whether a man gets it or not, the trio makes it clear this is his final chance from the first line, singing, "Take a good look at it / Look at it now / Might be the last time you'll / Have a go round."

They decide to tease their dude in the midst of challenging him. "If I move too fast / Just let me know / 'Cause it means you move too slow," the lyrics continue. 'Red Light Special' reached No. 2 on the Billboard Hot 100 in 1995, making it one of TLC's most successful songs.

13

'Whatever You Want'

Tony! Toni! Tone'!

Tony! Toni! Tone'! promises to deliver 'Whatever You Want' on this 1991 slow jam led with guitar licks and harps before the swingy beat drops. The guys intend to give the finer things to their lady to keep her near.

"Now maybe I should drive right over/  Show you my new ride / Or take you shopping out on the town / Will that make you feel your best," they sing. Even if you're not able to ball out on your significant other like the Cali trio can on this track, being right there when they call is enough to seal the deal.

12

'Sumthin' Sumthin': Mellosmoothe'

Maxwell

Maxwell took his hit song 'Sumthin' Sumthin'' from his 1996 debut and flipped it for the 'Love Jones' movie soundtrack. The final product was a down-tempo, echoey tune highlighted by the singer's silky falsetto.

"So if it's cool / I wanna rock with you / Slip you my mellosmoothe / Rock you until you're blue," he croons. We're convinced Maxwell conjures up a special spell with his vocals on this song, so careful listening.

11

Anyone who's ever been knee-deep in love can attest to the lyrics sung by SWV in 'Weak.' This trio of songbirds belt their powerful vocals on the sweet catchy tune.

Love can cause a rush and a high that's indescribable and SWV sings about it on the final chorus of the song." I get so weak.../ Blood starts racing through my veins/  I get so weak.../ Boy it's something I can't explain / I get so weak...," they sing. Don't we all want that kind of love?

10

'If I Ever Fall In Love'

Shai

There's not too many hit songs sung straight a cappella, but Shai's 'If I Ever Fall In Love' is a blissful harmonizing exception. A version of this track was later released with a slow jam beat, but nothing tops the original.

The song is all about a lesson learned that true love is deeper than surface level beauty. "..To my satisfaction / Baby, you were more than just a face / And if I ever (Ever fall) / In love again (Again)/ I will be sure that the lady is a friend." This is timeless wisdom right here.

9

'Butterflies'

Michael Jackson

Michael Jackson sang throughout several decades of R&B and fit right in, no matter his age. The King of Pop left his mark on neo-soul with the song 'Butterflies' written by songwriter Andre Harris and Marsha Ambrosius of Floetry, released in 2002. On the track, MJ has got it bad and the lady of his eye is giving him a hard time.

"All you gotta do is just walk away and pass me by / Don't acknowledge my smile when I try to say hello to you," he serenades on the dreamy record. Who turns down Michael Jackson? Combine this with lifting harmonies, 'Butterflies' is still one of MJ's best records even though it came way after his heydays.

8

"This right here's a panty-dropper," as Trey Songz would say. But way before the crooner began serenading women, Boyz II Men had the ladies going wild, especially with the moaning 'Uhh Ahh.' The group paint their fantasies on =to wax.

"The music is low / The lights are dim, there we lie / Passion overflows / With every look in your eyes," they croon. The a cappella countdown in the beginning of 'Uhh Ahh' was later sampled by Beyonce in 'Party' from her album, '4.'

7

'Breakin' My Heart (Pretty Brown Eyes)'

Mint Condition

The chase gets old after awhile, especially when your crush is fronting on you. Mint Condition knows your pain and wrote a song about it in September 1991. "You keep telling me / That your time is always taken / But I keep seeing you out alone," Stokely Williams sings on the first verse.

Muster up some faith and tell your crush straight up how you feel like the singer does over the acoustic, head-bopping instrumentals provided by the band. You may gain their affection and if not, at least you can move on to find another 'Pretty Brown Eyes.'

6

'One in A Million'

Aaliyah

Good love is hard to find, but when you get the rare opportunity to experience it, it feels like you've won the lottery. Aaliyah is high off this kind of love on 'One in A Million.' "Won't let no one come and take your place / Cause the love you give can't be replaced," she coos.

Aaliyah knows what she has and isn't about to lose it. The record has a steady knock and the words "love ya baby" ring throughout the Timbaland-produced track.

5

Ginuwine gives us a little storyline on 'So Anxious.' The clock has struck 9PM, he looks at his pager (yeah, we know people sext these days, but this was the '90s) and hits up someone to fulfill his needs.

And he's a bit thirsty about it. "It's 10:10, where you been? Did you get my message?" he belts out after getting a delayed response. Chill Ginwuine! Sheesh, she's at work. Eventually, they set a time for 11:30PM and he'll be right there anxiously waiting for the next hour.

"Girl could you quit this stallin' / You know I'm a sexaholic," he sings. Ginuwine could use a little patience, but this is an emergency and 911 isn't responding quickly enough.

4

"Everytime I close my eyes / I wake up feelin' so horny," K-Ci sings, getting straight to the point on the opening lines of 'Freek'N You.' He and his bandmates of Jodeci won't hold back their yearning until they reach their goodies.

JoJo gets honest on the second verse and croons that he wouldn't mind having another, but it wouldn't be the same. "I can even play with another body / But it wouldn't last 'cause I'm a freak / Turned on by everything you say," he croons. Jodeci teaches us that in some cases, honesty mixed with some begging might be the best policy.

3

'Untitled (How Does It Feel)'

D'Angelo

'Untitled (How Does It Feel)' by D'Angelo was created for one thing in mind, so don't press play if you're not really ready for what can potentially be the result. Sexual tensions are running high between the singer and the woman he desires. He wants to lock her in and have her stop running from the overwhelming temptation.

"I wanna stop / Silly little games you and me play / And I am feeling right on / If you feel the same way, baby / Let me know right away," he sings. Everything about this 2000 record and the god-like abs featured in the music video were epic. This track has definitely entered classic territory.

2

'Any Time, Any Place'

Janet Jackson

Even though Janet Jackson stays away from the cliche imagery in her lyrics on 'Any Time Any Place,' the song begs for a dark room and burning candles. In her whispers and moans, the songstress cruises through the sexy cut about PDA with no boundaries. And she's not just talking holding hands.

"I don't wanna stop just because / People walkin' by are watchin' us / I don't give a damn what they think / I want you now," she proclaims. This one's for the free spirits. As we all know, Kendrick Lamar sampled this for his popular Drake-assisted cut 'Poetic Justice.'

1

R. Kelly tries to play innocent when his intentions are nothing but that on his 1994 record 'Bump N' Grind,' off his debut solo album, '12 Play.' The woman he wants is taken, but his lust is strong and that only makes him want to compete for her hand in the bedroom even more.

"You say he's not treating you right / Then lady spend the night now / I'll love you like you need to be loved," he guarantees. The song hit No. 1 on the Billboard Hot 100, which means most Americans "see nothing wrong with a little bump n' grind."